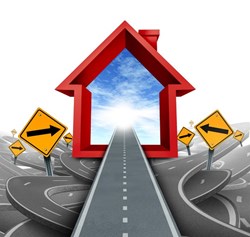 Orange, California (PRWEB) August 03, 2013
It's already a very competitive real estate market for home buyers. There are far more buyers than there are homes for sale.
According to Broadview Mortgage, interest rates have to risen to well above all time lows in the first week of August, 2013.
Submitting offer after offer, only to be beat out by someone offering more, having a larger down payment, or the sales price exceeding what you qualify to buy is enough to make many folks suspend any hope of buying a home right now.
As a mortgage bank, Broadview Mortgage works with many real estate agents on the best way to get offers accepted. These are three ways that those who are shopping for a home can reduce competition:
1. Create a "Must Have" List - The first step is writing down a "Must-Have" list. This list will include everything that could, or would, help sway a buying decision in one direction or the other.
To begin with, this list should be long and as detailed as possible. This list can include anything from length of a commute, to granite counter tops.
Once the list is finalized, it should be organized into three categories: non-negotiable, need, and want.
2. Create Realistic Expectations - Once the "must haves, needs and wants" are identified, these are the road map for the real estate agent to follow to find homes of interest to the homebuyer.
By narrowing the home search only to the homes that are of most interest, more time can be spent doing research. This means less stress for the homebuyer knowing that they've appropriately done their homework and can submit the most aggressive offer.
3. Expect Competition - Homebuyers should expect a lot of competition in most price ranges when trying to buy a home in today's market. The most aggressive approach they can take is to be competitive, and be prepared to offer more when the counter offer comes back.
In most multiple offer situations, a blanket counter offer for highest and best offer is received. When this comes in, it is absolutely critical that a homebuyer have a solid lender pre-approval, can afford to reply with a higher offer, and should considering waiving the normal contingency period. This should only be done with the advice of a licensed real estate agent.