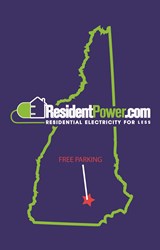 This was one of those ideas that is fun and exciting and gets us out in front of our customer base.
Manchester, NH (PRWEB) August 05, 2013
Local energy company Resident Power worked with the City of Manchester in order to offer paid parking in a section of downtown as part of a new promotion of its cheap electricity rate program. Resident Power brought alternative electricity choice to New Hampshire Residents in 2011, and even with the arrival of two large competitors, is still very much a part of the residential alternative electric supply movement for New Hampshire.
After calling the city parking office to get permitting for the unusual request, it was passed through the city clerk's office and all the way to the Mayor's office before permission was granted. Resident Power indicated that every office along the way was very helpful in processing the request and even a bit intrigued if not excited about doing so. The request even caught the attention of Mayor Ted Gatsas himself who is expected to take the time to stop by the event on Wednesday to witness the public reaction to the promotion.
Managing director Bart Fromuth commented on the program, "We have a very young and creative staff here at Resident Power. This was one of those ideas that is fun and exciting and gets us out in front of our customer base. We like to find more creative ways to reach out to the public rather than stuffing people's mailboxes week after week with flyers."
There will be an informational booth in front of 816 Elm Street from Manchester Street to Merrimack Street. New Hampshire Residents will be given the opportunity to speak and ask questions with Resident Power staff, share email addresses and even enroll if they happen to have their PSNH bill on hand. Resident Power will be paying for parking between the hours of 11 AM and 3 PM on August 7, 14, and the 21, with plans to extend the program based on its success.
Resident Power was the first to offer competitive electric choice in New Hampshire and has been serving customers since March of 2011. It celebrated its second birthday earlier this spring and is now able to offer rates to both PSNH and the New Hampshire Electric Co-op customer base.
Resident Power is a family owned business and is part of the Freedom Logistics family of energy companies. Resident Power is the official electricity partner of the Retail Merchants Association of New Hampshire, and the states largest residential electricity aggregator.