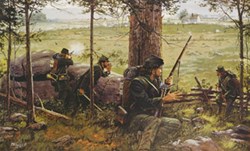 Lynchburg, VA (PRWEB) August 01, 2013
Liberty University will present its 17th annual Civil War Seminar "1863—The Conflagration Continues," Friday, Sept. 13-Sunday, Sept. 15, at Arthur S. DeMoss Learning Center, located on Liberty's main campus.
The following nationally known speakers will cover key topics of 1863 Civil War studies:

Rod Gragg — "Gettysburg: An Eyewitness History" (keynote address) and "The 26th North Carolina at Gettysburg"
Dr. John Brinsfield — "Chaplains at Gettysburg"
Hunter Lesser — "Lincoln's Odd Trick: Heroes, Rascals & Rogues of West Virginia Statehood"
Major John Plaster — "Sharpshooters of the Civil War" and "The Rifles of Gettysburg"
Michael Leavy — "Railroads of the Civil War: An Illustrated History"
In addition to lectures, papers by scholars from around the country will be presented.
Numerous exhibits of Civil War artifacts and memorabilia will be on display for the public and vendors will have various Civil War items for sale.
Special tours of the National Civil War Chaplains Museum on Liberty's campus will be conducted each day in the afternoon.
The seminar will conclude on Sunday, Sept. 15, with a period church service at Liberty's prayer chapel led by the Rev. Alan Farley of Re-enactor's Missions for Jesus Christ.
A special banquet will be held Friday night; admission is $25. A silent auction will be held during the banquet to raise funds for the National Civil War Chaplains Museum's purchase of the only known surviving U.S. Christian Commission flag.
The cost for Saturday's lectures is $25 per person or $35 per family. Special rates are available for home schooling families.
For more information, including times, go to http://www.Liberty.edu/CivilWar.
Those interested in attending are encouraged to secure reservations by Monday, Sept. 9. Go to http://www.Liberty.edu/tickets or call (434) 582-SEAT (7328).
Special lodging rates are available at the Wingate by Wyndham. For information, call (434) 845-1700 or go to Wingate's website.
Continuing Education (CEU) credits are available for some sessions. For more information, call Liberty's Center for Professional and Continuing Education at (434) 592-4718, email cpce(at)libert(dot).edu, or visit http://www.Liberty.edu/CPCE.
Liberty University, founded in 1971, is the largest private, nonprofit four-year college in the nation, the largest university in Virginia, and the largest Christian university in the world. More than 100,000 students attend classes on its 7,000-acre residential campus and study in its thriving online education program.