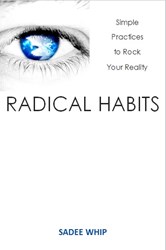 Seattle, WA (PRWEB) August 20, 2013
Breakthrough new book Radiacal Habits is more than just a book, it is a tool that guides you, the reader, into understanding the challenge of consciousness and gives the reader a step by step process in achieving consciousness.
Radical Habits is written for today's overwhelmed and busy reader - filled with practical and profound "habits", readers will find it amazingly accessible and immediately applicable.
Used as a journal, for a study group, or a "divinatory tool", Radical Habits is a versatile book that is delighting people with how quickly they get the "Aha!"
Radical Habits delivers bite-sized enlightenment tidbits you will find yourself remembering and, more importantly, utilizing throughout your day. It will blow your mind.