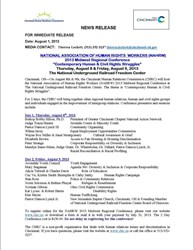 Theme - "Contemporary Human & Civil Rights Struggles"
Cincinnati, OH (PRWEB) August 03, 2013
Please join us and many other community leaders who are committed to providing education, training, research, networking and professional development to others in order to enable all of us to foster equality within a diverse society. For 2 days, we will be bringing together other regional human relations, human and civil rights groups and individuals engaged in the improvement of intergroup relations to: (1) Encourage the collection, compilation and dissemination of information and research among organizations; (2) Advance the science, process and art of intergroup relations; and (3) Improve the standards of work in the field (i.e., advancing technical, professional knowledge, standards and practices).
If you plan to attend the 2-day Conference, please register online or download a form at http://www.chrc.us Also, please continue to share this information with your staff and colleagues and encourage them to register.