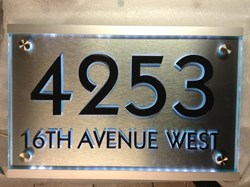 North Vancouver, BC (PRWEB) August 03, 2013
Address Signage Company has acquired a new CNC plasma cutting machine, just after the celebration of the businesses 10th anniversary. This new technology now allows the company to fully manufacture its address and street signs by cutting custom letters and numbers into almost any material. Address Signage Company is based in Vancouver, BC, and designs and manufactures high quality custom signs throughout North America for homes, condos, apartments, and businesses.
The new plasma machine uses high voltage and air pressure to make your signage really pop-out, with up to 1" thickness, enabling address signage to be created with 3-dimensional numbers and letters, in any font possible.
The plasma cutter has become a blessing for all. From those who want small house address plaques to those who would like a 5-foot engraved sign. Numbers can be engraved into material such as aluminum, granite, slate, stainless steel, and any other material, just ask.
The CNC Plasma cutting machine is the latest addition to Address Signage's artillery, which includes a sandblasting machine, powder coating system, and aluminum casting machine.
It is a difficult task to find signage that you like that is also appealing to others, and that is why Address Signage Company focuses in customization. Lisa H. from Toronto "I had a difficult time finding letters locally for my house address. When I found Address Signage Company, I knew I had found the right place. The letters were the EXACT size and font I was looking for."
If you would like information on Address Signage Company's home and business signage, please contact Moe Arjmand at 1-888-798-7446 or info(at)onlinesignco(dot)com. You can view the full gallery of signage available at http://www.onlinesignco.com