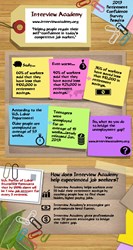 St. Louis, MO (PRWEB) August 12, 2013
Interview Academy is the go-to source for experienced professionals who are striving to regain that winning edge in their careers so they can continue to build a brighter future for their retirement and for their families. In 2013, the Employee Benefit Research Institute conducted a national survey. The findings show most professionals would benefit from additional coaching to get them to the next level in their career path. Interview Academy helps experienced professionals build their retirement savings by coaching people how to find those hidden, higher paying jobs. Knowing that looking for a job can be a full time job, Interview Academy offers timesaving solutions. Precious time working and building retirement funds can mean all the difference to professionals in today's competitive marketplace.
According to the Retirement Confidence Survey conducted by the Employee Benefit Research Institute in January of 2013, workers aged 55 and older said the following about their retirement savings: 60% have less than $100,000 in retirement savings, 43% have saved less than $25,000 and 36% have saved less than $10,000 in retirement savings. The statistics are staggering, and Interview Academy encourages professionals not to wait until after Labor Day. This summer is the best time to take advantage of the new job searching techniques that have been developed by Interview Academy.
The United States Labor Department's jobs report, released January 25, 2013, stated the average duration of unemployment during the previous 12 months for older people was 53 weeks, compared with 19 weeks for teenagers. Using the tired and true strategies developed by Interview Academy, professionals will get rehired faster.
The US Bureau of Labor Statistics forecasts that by 2016, there will be 1 new job entrant for every 5 retirees. With over 50 proven strategies, Interview Academy gives professionals the training they need to bridge the talent gap and avoid becoming a statistic.
###
About Interview Academy:
Interview Academy gives professionals the resources they need to find hidden job opportunities, develop resume strategies, land the dream job and get paid what they're worth. Think of it as Interview 401. This is higher education designed to help people regain self-confidence in today's competitive job market. Throw away those old-school, conventional interviewing tactics that are inadequate in today's hyper-competitive world. Enter the modern world with InterviewAcademy.org. Interview Academy will help professionals ace their next job interview and land that dream job through interview development and effective resume strategies.
For more information on Interview Academy and the proven methods, please website the website at http://www.interviewacademy.org.