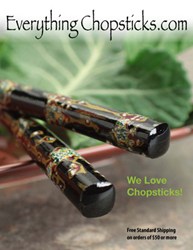 Eugene, OR (PRWEB) August 02, 2013
EverythingChopsticks.com has released a catalog of chopsticks. The new catalog contains their entire vast collection of current chopsticks. The catalog can be downloaded directly from their website. It can be browsed on any computer, tablet or mobile device.
In addition to chopsticks, the catalog contains a large selection of chopstick rests, chopstick boxes and sleeves, as well as chopstick aids. Interspersed are articles on chopstick etiquette throughout the world, how to use chopsticks and how to make a chopsticks wrap from a napkin or bandana.
The catalog contains beautiful photographs and full descriptions of each style of chopstick. It is divided into sections such as Japanese chopsticks, including sub-sections on popular chopstick art forms such as Wakasa, Nishijin and Washi, and sections for other styles like Chinese, Korean, Thai and Vietnamese chopsticks. Featured are the many fine handcrafted chopsticks such as carbon fiber, acrylic, exotic wood and hand lacquered styles.
Everything Chopsticks has been a leading seller of chopsticks in the United States since 2005. They sell over 450 styles of chopsticks from around the world and provide the largest English language information website about chopsticks with over 65 articles on the history, culture, use, and manufacture as well as fun articles on what people do with chopsticks such as building a canoe, pickpocketing and surgery.
Everything Chopsticks also has the largest selection of personalize-able chopsticks, chopstick sleeves and boxes. They engrave the chopsticks at their warehouse providing expert quality, low cost and quick turnaround. Personalized chopsticks are used as gifts, and as giveaways at weddings, parties and corporate events.
Everything Chopsticks sells its products through the website EverythingChopsticks.com as well as Amazon.com. The new catalog has clickable links that take the reader directly to the specific item in their store for easy purchase. They hope to publish their catalog for download to the Apple iTunes ibookstore and Amazon.com bookstore soon.
About Everything Chopsticks
Everything Chopsticks (http://EverythingChopsticks.com) has been a leading provider of chopsticks since 2005, specializing in quality chopsticks from Asian cultures around the world.