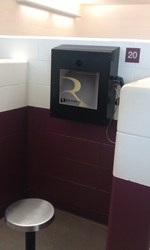 Over 2,000 at-home visits and 500 additional onsite visits have already been conducted at Kent County - generating over $21,000. The system is on pace to generate over $80,000 annually.
Grand Rapids, MI (PRWEB) August 02, 2013
For over three years, the Kent County Jail has been utilizing Minneapolis-based Renovo Software's Video Visitation System to perform inmate visitations. Over 11,000 visitors have scheduled over 100,000 visits using the system – reducing the amount of staff needed to manage visitations. Now visitors and inmates can take advantage of a new feature – visitations over the internet.
Since April, visitors at the Kent County Jail have been able to take advantage of a feature that allows them to visit inmates from the comfort of their home. By going to http://www.renovosoftware.com/kentcounty, visitors can register and then select a 10 or 25 minute at-home video visit. The cost for each is $4 and $10 respectively and there is no limit to how many internet visits the visitor or inmate can have. Visitors simply need to have a webcam, internet access, and Adobe Flash installed on their PC.
The system allows visitors to test their computer prior to scheduling an at-home visit. If anything needs to be adjusted, there is a step-by-step guide to help them through the process. Brian Peters, Director of Accounts for Renovo Software stated "We want the visitors to be confident with their PC prior to scheduling the visit so that they are comfortable paying for the new service. If they happen to have any issues, we have support staff that can remotely diagnose their issues and even change settings on their PC's, but for most it's as simple as click, pay, visit."
From a security standpoint, Kent County officials are able to monitor and record all at-home visits just like the onsite visits. "The process is really no different than an inmate phone call," said Peters, "The same monitoring and recording capabilities that are in place for phones are in place for at-home video visits. Staff can monitor live visits and stop a visit if they see or hear of a potential violation."
Along with at-home video visitation, inmates are no longer limited in how many onsite video visitations they schedule each week. Depending upon their classification, inmates receive one, two, or three no-charge onsite visits per week. Once that number is met, visitors have the option to pay $15 for each additional onsite visit beyond the inmate's weekly no-charge visit quota.
"The important thing to note is that inmates have the same number of free onsite visits per weeks as they had before – nothing has changed in that respect" noted Peters. "Visitors simply have new choices that they didn't used to have. Visitors can choose an at-home video visit, or they can come to the facility just like before. Before, it was only one, two or three visits per week--end of story. Now, if an inmate's quota is met, visitors can choose to have an additional onsite visitation, they can have an at-home video visit or they can wait until the following week just like before. They are not forced to pay money to see the inmate."
In order to offer this new service, Kent County purchased the necessary hardware, and the software was provided at no charge by Renovo Software. In addition to receiving higher commissions, purchasing the hardware allows Kent County to offer at home visits at a reduced rate compared to other facilities in the state. Peters stated, "Other facilities in Michigan are charging twice the rate of Kent. Kent wanted to keep the rates lower to reduce the burden on the families and reduce the amount of traffic in their lobby."
Over 2,000 at-home visits and 500 additional onsite visits have already been conducted at Kent County - generating over $21,000. The system is on pace to generate over $80,000 annually. Of the revenue generated, 50% is given to Kent County in the form of a commission. "Kent County has been a tremendous facility to work with," said Peters, "and as a result, adoption of this new feature has been extraordinary. It's clear that the visitors want to take advantage of this technology."
About Renovo
Renovo Software's visitation management platform, VisManager, is a proven solution for jails and prisons to improve efficiency, cut costs, and generate revenue through visitation. Renovo has been helping large and small correctional facilities across the continent streamline inmate visitation for almost a decade. Renovo's comprehensive system is used to manage and schedule on-premise video visits, internet video visits and face-to-face visits through a single web-based interface. With over 100 visitation customers across North America, Renovo continues to introduce next generation features and functionality. More at http://www.renovosoftware.com.