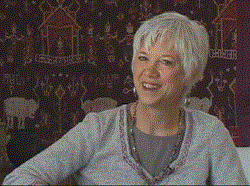 Palo Alto, CA (PRWEB) August 06, 2013
Sofia University professor and Co-creator of MotherPeace Tarot Cards, Vicki Noble presents, "Sacred Play with the Motherpeace Cards: A Two-Day workshop". The workshop will take place Saturday, August 10th from 10:30am to 5:00pm and Sunday, August 11th from 10:00am to 5:00pm in the Sofia University Gaia Classroom.
All are welcome to explore working with the Motherpeace cards from simple readings using intuition and imagination, to complex methods contained in the ancient system of Tarot (Major, People, and Minor Cards). The class will be held within a sacred circle, using simple rituals to access information and guidance in the Motherpeace system. Beginners and advanced practitioners can work at their own levels within this complex methodology.
Attendees are required to wear comfortable clothing, bring a cushion for sitting on the floor (optional), and bring the Motherpeace cards if you have them. Motherpeace cards will be sold at the workshop. All guests must register to attend here: http://itp.givezooks.com/events/sacred-play-with-the-motherpeace-cards
Vicki Noble is not only an integral part of the master's program in women's spiritual guidance; she has written three books to accompany her unique systems for working with the wildly popular Motherpeace tarot cards. She has developed a substantial body of original work in the area of Female Shamanism from the founding and direction of a Bay Area Motherpeace school for women healers and her many publications on the subject. Her most recent book, The Double Goddess: Women Sharing Power presents original scholarly research on the connections between Bronze Age shaman women in the Mediterranean region and the Eastern traditions of Tibetan Buddhism and Indian Yoga across the Silk Road through iconographic dual-female images. She is currently editing an anthology on Woman Shamans to be published in 2013.
About Sofia University
Founded in 1975, Sofia University (formerly the Institute of Transpersonal Psychology) is a private, non-sectarian university accredited by the Western Association of Schools and Colleges. For over 35 years, within the context of scholarship and research, the school has offered transformative education for the whole person, probing the mind, body, spirit connection. As Sofia University, the school is broadening its mission, reaching into multiple disciplines and adding undergraduate study. For more information, visit http://www.sofia.edu