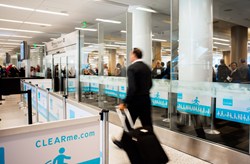 We are thrilled to bring CLEAR to San Antonio, one of the fastest growing cities in the US and a major hub for both business and leisure travelers, - Caryn Seidman Becker, Chairman and CEO of CLEAR
New York, New York (PRWEB) August 05, 2013
CLEAR, the leading biometric identity service, announced today that their members-only CLEAR lanes are now open at San Antonio International Airport (SAT). CLEAR members will now be able to speed through airport security in less than 5 minutes on average through San Antonio, bringing speed, predictability and service back to travel.
"We are thrilled to bring CLEAR to San Antonio, one of the fastest growing cities in the US and a major hub for both business and leisure travelers," said Caryn Seidman Becker, Chairman and CEO of CLEAR. "CLEAR and San Antonio International Airport are aligned in creating the best possible travel experience for San Antonio passengers, and are thrilled to welcome them into the CLEAR network."
Two of the most popular destinations from San Antonio (Dallas & Denver) are already CLEAR airports, further driving the powerful network effect for current and future CLEAR members. Additionally, CLEAR announced earlier this week they will be launching in both Houston airports, George Bush Intercontinental Airport and William P. Hobby Airport.
"We are always looking for innovative ways to improve airport customer service," said Aviation Director Frank Miller. "Passengers using the biometric technology can enhance their security checkpoint process and San Antonio airport experience."
Certified by the Department of Homeland Security as Qualified Anti-Terrorism Technology, CLEAR transforms the travel experience by allowing members to use their biometrics (fingerprint or iris) to speed through security at major US airports. A CLEAR membership is only $179 a year for unlimited use. Members can add their spouse or partner for an additional $50, and children under 18 always fly free through the CLEAR lane. Military and corporate discounts are also available.
ABOUT CLEAR
CLEAR uses biometric technology to identify members and speed them through airport security in under 5 minutes on average, effectively eliminating lines and transforming travel. CLEAR's secure technology platform delivers certainty of speed and the highest level of service to members at the airport, while also enhancing airport security.
CLEAR operates at San Francisco, Denver, Dallas-Fort Worth, San Antonio and Orlando international airports, at Westchester County Airport in New York and will be opening in Houston soon. CLEAR has a growing base of over 250,000 members nationwide and has already been used over one million times. CLEAR is currently expanding to bring its timesaving, secure biometric technology (fingerprint and iris technology) to airports around the country and is now integrated with TSA PreCheck in SFO, DEN and MCO. Enrollment is fast and easy and can be done at any of CLEAR's enrollment centers (http://clearme.com/enrollment-centers). For more information on how CLEAR is changing the way people travel, visit http://www.clearme.com.