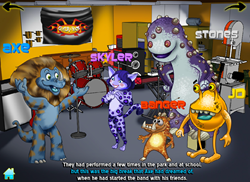 Monster Jam is an eclectic fusion of a rock band with a book which is sure to make your kid go wow!"
Frisco, Texas (PRWEB) August 02, 2013
The Monster Jam music themed app for children by Blue Sandpiper Imprints has won the coveted app of the week award from i Heart this App. The competition was close with many well-deserving education and recreation apps in the children's interactive media category.
Monster Jam is a unique children's book app that builds reading skills and music awareness with the use of narration, animation, original music, touch interactivity & games. These activities enhance the reading experience while seamlessly moving the story forward.
Monster Jam's Author Michelle Anaya who also wrote the well-received digitally enhanced book app "Grendel's Great Escape" skillfully uses digital media to stimulate the imagination of even the most reluctant readers. She uses this interactive environment in order to foster and encourage a love for reading as a lifelong activity which will broaden a child's horizon and provide a productive alternative to video games.
Monster Jam is available for use on the iPad, iPhone and Android devices.
The award-winning illustrator and cartoonist Victor Guiza puts his own unique creative stamp on the characters, each crafted with its unique character and design.
Monster Jam has received many positive reviews, notably for its storyline, original characters, excellent illustrations, narration and music.
"When you're designing a storybook, characters and backgrounds are the most important of the things because they attract the children most. I must say that the designers have done a decent job here both with the cute characters and stylish backgrounds. Overall, it's a perfect storybook for children where they can enjoy the story as well as play with the band." - Apps mirror
"At a time when old-fashioned hobbies like reading, writing and sensible music are increasingly going out of vogue, digital apps have found a new way to bring them back for the tech-whiz kids of today. iPhone app Monster Jam is an eclectic fusion of a rock band with a book which is sure to make your kid go wow!" - Apps 4 review
"The monsters theme is well-visualized through the artwork, different characters, and environments, and they are all presented in a very positive way. The story is about persevering, trying your best, self-confidence, and positivity — values that children will definitely need to learn." - i Heart this App
The Monster Jam App Features

Interactive story created for kids 4-8 years old
Colorful and kid-friendly artwork
Lively rock music soundtrack
Fun cast of characters: Axe, Skyler, Stones, Banger and JD
Professional narration
2 reading modes: Read By Myself and Read to Me
Highlighted words for emerging readers
2 interactive activities: Band (explore rock band instruments and sounds)
Tic Tac Toe game (against a friend or computer)
Handy Index allows reader to quickly jump to any page in story