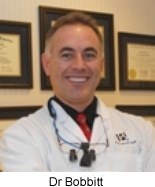 Waterlase is helping us make patients more comfortable during their visit, and overall providing a higher level of care that each of them deserve.
Nashua, NH (PRWEB) August 02, 2013
Dr. Scott Bobbit of Nashua, NH recently introduced Waterlase MD technology at his dental office to provide patients with a more comfortable, painless experience for dental care. Using the latest technology, Waterlase incorporates high-powered water, air, and laser energy to eliminate the need for traditional drills and needles used for dental restorations.
Many people experience fear of the dentist due to the pain and loud noises typically associated with restorative care. Because of this fear and anxiety, many patients forego dental care altogether, which can have adverse effects on their overall health, not just their oral health. With Waterlase, Dr. Bobbitt is now able to provide a better experience for his patients while preserving more of their viable tooth structure.
"At our practice, our goal is to provide patients with an exceptional experience," said Nashua, NH laser dentist Dr. Scott Bobbitt. "Waterlase is helping us make patients more comfortable during their visit, and overall providing a higher level of care that each of them deserve."
The traditional process of removing and filling a cavity involves using a high-speed drill that creates friction against the tooth and consequently also produces a high amount of heat. Because of this, most restorations require anesthesia to reduce patient discomfort. With Waterlase, laser energy and a high-powered water stream work together to cut out decay from the tooth without heat, friction, or loud noises. Because of the laser precision, Dr. Bobbitt is able to preserve more of the healthy tooth than with a traditional high-speed hand piece.
The eliminated need for anesthesia requires no patient downtime after their fillings, and the procedure is safe for patients of all ages and most health conditions.
In addition to Waterlase technology, Dr. Bobbitt incorporates a variety of other laser technology at his practice including Diagnodent and other lasers for cosmetic gum sculpting and recession desensitization. Dr. Bobbitt is also a qualified implant dentist in Nashua, NH and uses laser technology for guided implant surgery.
Nashua Dentist Dr. Scott F. Bobbitt has been a practicing dental professional for more than two decades and is dedicated to incorporating the latest technology for his patients. He completed his dental education at the University Of Connecticut School Of Dental Medicine in 1989. He served in the United States Air Force Dental Corps after graduation and has also completed several continual education courses throughout his career. He has been selected twice as one of the Top General Dentists in NH. Dr. Bobbitt is a member of the ADA, New Hampshire Dental Society, Academy of General Dentistry, and Academy of Laser Dentistry, among others.
For more information about Nashua, NH family dentist Dr. Scott F. Bobbitt or the services he and his staff provide, please visit http://www.nashuadentistdrscottbobbitt.com and http://www.youtube.com/watch?v=LLjthnzxVy8.