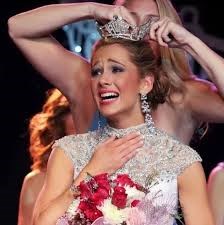 Going through Lyme made me the person I am today.
Stamford, CT (PRWEB) August 06, 2013
When recently crowned Miss Delaware, Rebecca Jackson, walks out on the stage of the Miss America pageant on September 15, it will represent far more than her triumph over other contestants in her state—it will mark her overcoming debilitating Lyme disease.
The 21-year-old University of Delaware student, named by Lyme Research Alliance as its Person of the Month, not only dealt with a severe bout of Lyme seven years ago that left her "a shell of myself"—unable to walk and read for months—but she was infected again last summer and needed to undergo additional treatments.
"Without a doubt, going through Lyme disease was the worst experience of my life," says Jackson, who will be entering her senior year as a vocal performance major after she takes a year off for Miss Delaware (or, hopefully, Miss America) duties. "But it's made me who I am today. I never take anything for granted—whether just being able to walk or being able to have a normal conversation with someone."
Rebecca's problems with Lyme disease first began when she was a ninth grader at Unionville High School in Kennett Square, PA, where she was a first string player on the varsity volleyball team. Her family had gone out for a birthday dinner for her mother, Suzanne, when Suzanne noticed that "half of my kid's face was drooping."
Although Rebecca showed no visible signs of Lyme disease, such as a bull's eye rash (less than 50 percent of those infected develop one), her partial facial paralysis (also known as Bell's palsy) can be a symptom of Lyme. Sure enough, Rebecca was diagnosed with the illness and put on antibiotics that appeared to clear up the problem. She was able to finish the volleyball season, playing in September, October and then the state championship tournament in November.
But by Thanksgiving, Rebecca was experiencing severe fatigue. "I spent the day in my grandparent's bedroom, sleeping," she says. Soon, she had "severe migraines, swollen knees, uncontrollable shaking of my hands and legs, and I felt like I had bugs crawling through my body." She could hardly walk, had difficulty sleeping, and, since her eyesight was also affected, she could no longer read. "My body wasn't my own," she says. She remembers Christmas that year as a time when she was in "severe pain" and by January she could no longer go to school.
Like many people with Lyme, Rebecca soon found that some people thought she was being a hypochondriac or simply a troubled teenager crying out for attention. Others said maybe she was simply "depressed." Suzanne's mother, a professional opera singer and a certified yoga instructor, rejected those theories and decided to take Rebecca to see Dr. Charles Ray Jones, MD, a leading pediatric Lyme disease doctor in Connecticut.
Dr. Jones treated Rebecca for a year. In addition, Suzanne researched all potentially helpful treatments and put Rebecca on a gluten-sugar-dairy free diet, supplements to build the immune system, a regimen of chiropractic, massage, and Reiki healing modalities, and also designed a special yoga program for her daughter.
By April, Rebecca was showing signs of improvement. Working with tutors at home, she managed to pass her 9th-grade classes the day before 10-grade classes began. Rebecca said she finally felt completely better by the end of her senior year of high school. Yet when she was infected again last summer and started to feel sick, "I relived all that I had gone through before. It was terrible."
Today Rebecca is prepared to strut her stuff on the Miss America stage in Atlantic City, New Jersey. Having recovered from Lyme, and determined to make every day count, she is focused on helping the nation's 400,000 children in the foster care system. Foster children have double the rates of depression, post-traumatic stress disorder and anxiety than the average population. Rebecca has worked on several projects aimed at using music and yoga to "bring confidence, joy and self-esteem" to foster kids.
"I was very lucky at a young age to have two parents who realize the benefits of music, that it is a creative outlet and a place you can be yourself," Rebecca explains. "But a lot of these kids don't have that opportunity, or these kids don't even have families. So giving those kids that opportunity I had is almost a necessity, a necessity for people like myself who were blessed with that to share it."
She is also happy to discuss her Lyme disease experience and reach out to those suffering from the illness. Being named LRA Person of the Month is "awesome," she said, and a "great way to increase Lyme disease awareness."
"There's no quick fix for Lyme disease and it's very easy to get wrapped up in your illness," she says. "But going through Lyme made me the person I am today. I urge anyone with this disease to appreciate little victories in their day and never give up hope."
Good luck in Atlantic City, Rebecca. We're rooting for you.
________________________________________________________________________________
Lyme Research Alliance, formerly Time for Lyme, is a Connecticut-based, national nonprofit that funds cutting-edge research into Lyme and other tick-borne diseases. For more information, visit LymeResearchAlliance.org.