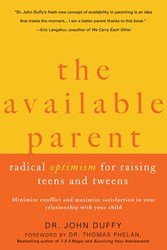 Parents of teenagers require two things: a sense of hope and a clear job description. Here you get both.

—Dr. Thomas Phelan, author of 1-2-3 Magic: Effective Discipline for Children 2-12
(PRWEB) August 02, 2013
Dr. John Duffy was featured on The Morning Blend in a special segment focusing on one of the most universal issues parents face - kids talking back. As the author of The Available Parent and a top national parenting expert, Dr. Duffy is uniquely positioned to help parents with approachable and practical advice.
The Morning Blend features a conversation with Dr. Duffy and interview with tweens themselves on why they talk back and what would prompt them to stop their defiant behavior.
Dr. John Duffy is a highly sought-after clinical psychologist, certified life coach, parenting expert, and proud parent. He has been working with teens, tweens, and their families for more than fifteen years. He has provided the critical intervention and support needed to help hundreds of families find their footing. He is proud to be a regular parenting and relationship expert on the new Steve Harvey show and The Morning Blend on NBC.
In The Available Parent: Radical Optimism for Raising Teens and Tweens, Chicago teen therapist Dr. John Duffy gives parents a new strategy for helping their adolescents become competent, resilient, connected adults based on his years as a family counselor. Dr. Duffy believes that it's not teenagers who are unavailable. He believes that too often parents strike first with judgment, fear, anger and ego—and their teens simply react in kind.
The Available Parent outlines clear, teen-tested strategies for transforming that dynamic. Available parents are open to loving, non-judgmental discussion, offering advice but not insisting that the child take it. They are unconditionally accepting and open to new and different ways of thinking. Available parents are self-aware, and keep their own emotions in check when dealing with their children. There are no limits to their availability, but they do not hover in an over-involved manner. Available parents recognize that they need to allow their children a wide enough berth to make decisions good and bad, and to learn from both.