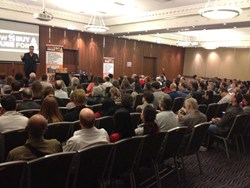 These processes are effective for post-recession economies because it doesn't rely on traditional systems of housing finance. Instead, it relies on alternative and flexible payment terms such as rent to buy or instalment contracts
(PRWEB) August 02, 2013
Rick Otton, author of How To Buy A House For A Dollar, announced that he will host a one-day seminar in Sydney on 7 August, free of charge, to help home buyers navigate the increasingly competitive search for property in Sydney.
The new home buyer's index (HBI) reveals that Sydney is the top seller's market in New South Wales (NSW) with low supply of dwellings and high population growth. This means that home buyers in the harbour city outnumber the volume of houses and units for sale, despite the recent increase of Sydney property development.
According to a news report, Sydney was classified as a buyer's market last year and this shift would create many opportunities for both buyers and sellers.
"Buyers would have to realize that even if an area is a buyer or seller's market they would still have a hard time buying Sydney property because the banks are approving lesser number of loans, and in this situation only creative real estate processes can help them buy and sell houses easily," according to Mr. Otton.
"These processes are effective for post-recession economies because it doesn't rely on traditional systems of housing finance. Instead, it relies on alternative and flexible payment terms such as rent to buy or instalment contracts," he explained.
Mr. Otton explained the difference of instalment contract and rent to buy or lease options in a recent episode of Creative Real Estate iTunes podcast.
"Rent to buy or lease option is suitable for people who can only pay a small amount of deposit or those that have questionable credit. This deal gives the renter an option to buy the unit or house he is living in upon expiration of the lease contract," Mr. Otton said.
"Instalment contracts, on the other hand, provide more upfront money for sellers, but it is more complicated to execute and buyers would require the assistance of solicitors," according to Mr. Otton.
"Whatever payment terms the buyers and sellers agree to follow every deal with creative real estate processes guarantee benefits for all parties involved, regardless of the status of the Sydney property market," Mr. Otton shared.
Visit http://www.howtobuyahouseforadollar.com/ now to get early seat reservations for Rick Otton's seminar in Sydney on 7 August.
About Rick Otton
Rick Otton has spent decades making money by snapping up inexpensive real estate and putting it to work building wealth, and teaching others to do the same.
He is the founder and CEO of We Buy Houses, which operates in the US, UK, Australia and New Zealand, and through this business he puts his strategies to work every day.
Mr Otton received his start in alternative real estate investment in 1991 in the US, and within a year acquired 76 properties. In subsequent years, he made a fortune using his low-risk, high-reward strategies to inexpensively acquire real estate. He continues to do so.
As well Mr Otton travels between his home in Australia, and the UK, sharing his wisdom and teaching others how to buy and sell real estate, free from the constraints imposed by traditional lenders.
In 2013 Rick is celebrating the 10 year anniversary of introducing his property option strategies to real estate investors in the United Kingdom – the first person to reveal these ground-breaking strategies. In 2008 he created the first of his 'Houses for a Pound' strategies, upon which he grows as markets and laws evolve.
Mr Otton has been featured in a variety of television programs and magazines and in 2013 he published 'How To Buy A House For A Dollar' for the Australian market. This book has been named in the list of the Top 10 Most Popular Finance Titles for 2013, as voted by Money Magazine and Dymocks Book stores. A UK version is on the drawing board.
For full details of Mr Otton's upcoming 'How to Buy a House for a Dollar' seminars in major cities across the nation, visit HowToBuyAHouseForADollar.com or phone, in Australia 1300 888 450.
For general information about Mr Otton, visit http://www.RickOtton.com.