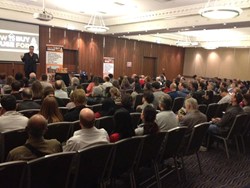 Times like these prove that creating new processes is the only way to solve problems which cannot be remedied by old processes
(PRWEB) August 03, 2013
"There a lot of ways to invest in property besides using cash you just need to use your creativity in coming up with these new processes," commented Rick Otton, author of How To Buy A House For A Dollar, in a recent article discouraging people to invest in property if they're not cash rich.
The article explained that, on average, people have $250,000 in their superannuation which is invested on a variety of platforms such as cash bonds, shares, and others. Now, the ordinary Sydney property could cost the buyer around $500,000, and in order for regular people to buy property in Sydney "they must take out big mortgages."
The author wrote that this kind of scenario leaves the investor with so much exposure for a single Sydney property investment.
"It's normal to read about negative opinions on property investment especially when the traditional processes of taking out home loans to buy houses is not as stable as it used to be," according to Mr. Otton. "Times like these prove that creating new processes is the only way to solve problems which cannot be remedied by old processes," he added.
"Many of my students start out in Sydney property investment with no money. All they do is find sellers who have houses in negative equity and create a deal out of the seller's needs," according to Mr. Otton.
Mr. Otton shared in a Creative Real Estate iTunes podcast that his students make profit out of these transactions through giving the sellers what they want. "If the seller wants $90,000, my students would offer them $105,000 to make the profit," Mr. Otton said.
"The profit is realized because of flexible payment terms. Unlike traditional processes, these terms are friendlier for the buyer and seller because it gives the buyer more time to pay while the sellers get extra cash flow every month," he explained.
You can learn more real estate guide for beginners in Rick Otton's one-day seminar in Sydney this 7 August. Attendees can enter even if you have no money because it's free of charge! Register now at http://www.howtobuyahouseforadollar.com/.
About Rick Otton
Rick Otton has spent decades making money by snapping up inexpensive real estate and putting it to work building wealth, and teaching others to do the same.
He is the founder and CEO of We Buy Houses, which operates in the US, UK, Australia and New Zealand, and through this business he puts his strategies to work every day.
Mr Otton received his start in alternative real estate investment in 1991 in the US, and within a year acquired 76 properties. In subsequent years, he made a fortune using his low-risk, high-reward strategies to inexpensively acquire real estate. He continues to do so.
As well Mr Otton travels between his home in Australia, and the UK, sharing his wisdom and teaching others how to buy and sell real estate, free from the constraints imposed by traditional lenders.
In 2013 Rick is celebrating the 10 year anniversary of introducing his property option strategies to real estate investors in the United Kingdom – the first person to reveal these ground-breaking strategies. In 2008 he created the first of his 'Houses for a Pound' strategies, upon which he grows as markets and laws evolve.
Mr Otton has been featured in a variety of television programs and magazines and in 2013 he published 'How To Buy A House For A Dollar' for the Australian market. This book has been named in the list of the Top 10 Most Popular Finance Titles for 2013, as voted by Money Magazine and Dymocks Book stores. A UK version is on the drawing board.
For full details of Mr Otton's upcoming 'How to Buy a House for a Dollar' seminars in major cities across the nation, visit HowToBuyAHouseForADollar.com or phone, in Australia 1300 888 450.
For general information about Mr Otton, visit http://www.RickOtton.com.