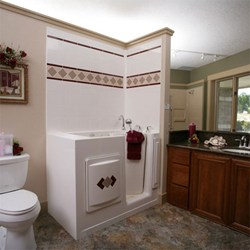 A live operator will answer the phone 24 hours a day!
New York, NY (PRWEB) August 02, 2013
An E-commerce elderly bathing products supplier, Aging Safely announces live customer support for their online walk in bathtub and ADA shower stall store. This convenient resource may be the perfect solution for the elderly and people with disabilities who would like to save money on the high costs associated with this type of specialty product.
Customers can enjoy browsing numerous online pictures and detailed product information outlining many of the important questions shoppers have. The company offers a large variety of appliances such as specialty wheelchair accessible transfer bathtubs, ADA shower systems, walk in tubs with hydrotherapy and ADA compliant safety grab bars. Upon ordering, clients can have the bathing appliance of their choice shipped directly to their home or business location.
According to Aging Safely, no matter what time zone shoppers are calling from, now they will be greeted by a professional and friendly live operator waiting to assist 24 hours a day. Orders that require delivery to the continental United States will receive shipping at no charge. Clients of Aging Safely who reside in HI, AK and Canada are required to pay additional for shipping fees.
In some cases, the disabled and the elderly are unable to visit a showroom and personally sit in the tub to try it out. This unique resource is potentially a great solution for those who are homebound and would prefer to learn about the product over the internet.
Senior citizens and people everywhere with disabilities are taking advantage of incredible products that are designed with fall prevention in mind. Having a sense of independence is important for most people. Having a fear of falling in the bathtub or requiring assistance to bathe may adversely affect confidence levels and the quality of life. Safety grab bars can easily be installed into bathroom entrances and adjacent to the bathtub to help assist with bathers stability while entering.
According to the company, several of their bathing appliances have textured flooring, temperature control devices, chromatherapy mood lighting, aromatherapy, 5' handheld shower wands, goose-neck roman faucet sets and fast drain technology.
Customers can choose to order the premium features they want or order a walk in bathtub without any of the additional accessories or jets. Basic soaker tubs are still incredibly functional and might be the right solution for someone who wants a low step in bathtub without all of the whistles and bells.
Furthermore, numerous products offered by the company are ADA compliant and have passed rigorous third part quality assurance testing. Aging Safely only provides the best elderly tub brands available, several of which are made in the U.S.A.
All products come professionally packaged and crated to prevent any type of damage in transit. The company also works closely very large assisted living facilities and nursing homes. Homeowners and commercial centers alike are encouraged to contact a customer care representative for a non-obligatory consultation to learn more about their specialty bathing product line.
Contact Information:
Zachary Wennstedt
info(at)Walkbathtubs(dot)com
720-495-5497
http://www.walkbathtubs.com