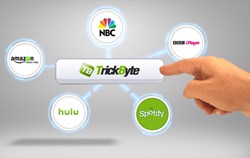 TrickByte brings a fresh new approach when it comes to accessing geo-blocked websites such as Hulu, Netflix, Spotify and others.
Ubonratchathani, Thailand (PRWEB) August 04, 2013
TrickByte brings a fresh new approach when it comes to accessing geo-blocked websites such as Hulu, Netflix, Spotify and others. Through their Smart DNS services, one can easily access these video-streaming sites no matter a person is wherever in the world. Moreover, the service is free for a limited period of time for people to learn about the advantages that the site is bringing for its worldwide users.
Announcing about their services, the creators of the site maintains that their services have many advantages that users will always appreciate. They are now allowing people to watch popular from anywhere in the world. With an unlimited bandwidth, one can enjoy watching favorite TV shows without any interruption. Users can enjoy HD quality streaming with a superb speed. The site maintains that their DNS unblocking eliminates the problem of speed bottleneck and there is no speed sharing like in a traditional VPN. The best thing is that their unblocking DNS system works on a host of devices such as PC, Smartphone, Android devices, iPad, Apple TV, video game player, media boxes and other devices. Thus, it offers a great degree of flexibility to the users when it comes to accessing favorite channels and watching shows. Moreover, they are offering free services now and one doesn't need a credit card to complete their sign-up process.
TrickByte now supports Netflix, Hulu, Amazon instant video, BBC, CBS, NBC, Spotify, Pandora, Fox, Crackle, MTV, ABC, Foodnetwork, HGTV, TV.com, USA network, AETV, PBS and The WB. More will be added in the future.
According to TrickByte, it requires a simple DNS setup to gain an access to the blocked website and one doesn't need to install any software onto their devices. According to them, with such user-friendly features, their innovative DNS system will bring a host of new entertainment and knowledge-gaining opportunities for the worldwide internet users, irrespective of their global locations. In order to take advantage of their free trial offer, one can visit the website http://www.trickbyte.com
About TrickByte
TrickByte introduces a smart DNS system that eliminates many technical drawbacks of a traditional VPN and helps an internet user to access any streaming or other websites without any bottleneck. Their newly introduced system helps users to access geo-blocked websites from any part of the world.
For more details about their smart DNS system, one may contact the site owners at contact(at)trickbyte(dot)com.