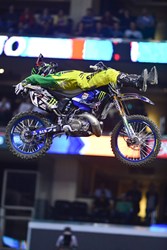 (PRWEB) August 02, 2013
Monster Energy's Taka Higashino has been pushing his way to the top of the Moto X Freestyle ladder for years, and now that he's on the top, it doesn't seem like he wants to let anyone take his place for a while.
Since the Moto X Freestyle events were canceled due to weather in Barcelona and Munich, Higashino came into X Games LA with a two-event win streak, having taken X Games gold at X Games LA 2012 and X Games Foz do Iguacu.
A big part of his win streak is his signature trick the Rock Solid Flip. He medaled in the last ever X Games Moto X Best Trick with his signature move, but he's the only freestyle competitor to have incorporated his one-off move into his actual freestyle run.
In both of his runs at the final X Games LA, Higashino threw his Rock Solid Flip on the second jump of the run.
However, after Higashino led his competitors out of round one with a score of 90, Monster Energy's Adam Jones threw down a top-flight run in round two, matching Higashino's score of 90, which meant that a three-peat for Higashino wasn't a guarantee. Monster Energy's Nate Adams – the most decorated Moto X athlete currently competing in the X Games – sat in bronze position with only Higashino left to take to the course.
In his second and final run in Freestyle Moto X, Higashino duplicated his first run to a tee, hitting every trick in the same order as he did in run number one, and not coincidentally landing the same score – a 90.0.
With two runs of 90.0, Higashino took his third consecutive X Games Freestyle Moto X gold medal in front of Jones, who had a 90.0 and an 82.66. Then came Adams in third to complete the Monster Energy sweep of X Games Moto X Freestyle.
"That first run, I didn't remember any of it," Higashino said before he knew he'd have to do it again in round two. But after taking his third win in a row, it's safe to say that Higashino is the most dominant man in Freestyle Moto right now.
"It's so cool, I don't even know what to say," Higashino said. "My wrist was kind of bothering me, but I knew I just had to do it. I can't wait until I'm perfect. The competition is now, so I had to. And I did. I'm so happy."
For more on Higashino, Jones and Adams, as well as X Games Los Angeles, including exclusive photos and daily recaps, check out http://www.monsterenergy.com or http://www.monsterenergy.com/facebook/.
About Monster Beverage Corporation:
Based in Corona, California, Monster Beverage Corporation is the leading marketer and distributor of energy drinks and alternative beverages. Refusing to acknowledge the traditional, Monster Beverage Corporation supports the scene and sport. Whether motocross, off-road, NASCAR, BMX, surf, snowboard, ski, skateboard, or the rock and roll lifestyle, Monster is a brand that believes in authenticity and the core of what its sports, athletes and musicians represent. More than a drink, it's the way of life lived by athletes, sports, bands, believers and fans. See more about Monster Beverage Corporation including all of its drinks at http://www.monsterenergy.com.