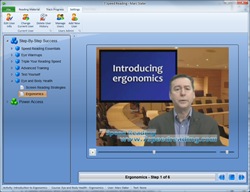 Both the versions of 7 Speed Reading software offer an array of features to its users...
New York City, NY (PRWEB) August 04, 2013
A recent market share report by CNET reveals a combined market share of Windows operating systems at 91.51% with MAC operating systems following at a 7.2% market share. These figures were highlighted in the latest briefing by the eReflect team. The team identified that the slowly and gradually increasing market share of MAC OS is an indication of the high growth market in this area in the foreseeable future.
In order to cater to this expanding market, the eReflect team has now launched a MAC-compatible version of 7 Speed Reading software. In their statement published today, the team stated that the MAC version of the software offers the same level of functionality, efficacy, and user friendliness as the Windows version.
Both the versions of 7 Speed Reading software offer an array of features to its users, stated the eReflect team. The software offers a variety of learning strategies and activities to its users along with video tutorials and monitoring technology. The software also offers Wiki connect technology and supports multiple users. As the team highlighted, the software's compatibility with MAC will now provide 7 Speed Reading software another distinct competitive advantage.
The exercises and activities provided in the 7 Speed Reading software system specifically focus on speed reading techniques that are proven to be highly effective, stated the eReflect team. The techniques cover all the potential areas that require improvement, including eye muscle fitness, comprehension, information processing, and subvocalization elimination.
Similar to its Windows version, the MAC version provides monitoring technology and interactive video tutorials. These tutorials are designed to accelerate the learning process, explained the eReflect team. 7 Speed Reading is offered for users at any age level ranging from third grade students to corporate professional users.
The team concluded its statement saying that the latest version of the software is specifically targeted at potential customers that use MAC OS as opposed to Windows. eReflect is confident that users of both operating system will be left highly satisfied after experiencing the comprehensive training program offered by 7 Speed Reading software.
For more information about the benefits of using 7 Speed Reading, please visit the official website at http://www.7speedreading.com.
About 7 Speed Reading™
7 Speed Reading is the only modern speed reading software that uses the latest technology to produce superior results.
The software provides its users with a new way to master speed reading that guarantees three times the reading speed along with improved memory and comprehension.
The software is poised as the most comprehensive speed reading system anywhere. It contains seven learning strategies, fifteen software activities, video training, advanced tracking capabilities and many more exciting features.