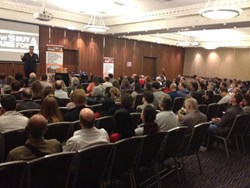 The normal method of getting a bank loan has become a huge burden on people – to the point wherein it was no longer considered practical for many
(PRWEB) August 04, 2013
Rick Otton, author of How To Buy A House For A Dollar, has decided to share a few lectures about the significance of creative real estate strategies after the global financial crisis (GFC) in his upcoming one-day seminar in Sydney on 7 August.
In the past three months, house prices in Australia's capital cities rose 2.3 percent with on sale properties spending only 45 days in the market after initial listing, according to new housing market statistics.
A news report added that Sydney property prices are still the highest in the country with an average sale price of $570,000. Analysts say that the strong market growth for property in Sydney, along with Perth and Melbourne, is helping keep the housing market buoyant for now.
"The country's property market is currently experiencing an up, but it has also duffered through downs after the global financial crisis in 2008. Since then, it's been an uphill climb for Sydney property to return to its former state mainly because there are less bank loans being approved by the banks," according to Mr. Otton.
"Creative and resourceful home buyers, however, have found a way to bypass the banking the system when purchasing houses and that is through using alternative strategies that allows the transfer of one person's debt to someone who is willing to make the payments for it - a strategy that I came up with a few years before the banking crisis," he shared.
"Nobody would have thought of this method prior to the banking crisis. But everything changed after 2008 when banks tightened their lending standards. The normal method of getting a bank loan has become a huge burden on people – to the point wherein it was no longer considered practical for many," Mr Otton added. He urged those who want to succeed in the Sydney property market to be open-minded about creative real estate strategies that are now becoming the new norm.
He also explained in an episode on Creative Real Estate iTunes podcast that the collapse of the traditional banking system has proven that "you can't solve new problems with yesterday's solutions," that's why it's important that more people create and adapt creative solutions which is responsive to the market's current problems.
Visit http://www.howtobuyahouseforadollar.com/ now to get early seat reservations for Rick Otton's one-day seminar about How To Buy A House For A Dollar in Sydney on 7 August.
About Rick Otton
Rick Otton has spent decades making money by snapping up inexpensive real estate and putting it to work building wealth, and teaching others to do the same.
He is the founder and CEO of We Buy Houses, which operates in the US, UK, Australia and New Zealand, and through this business he puts his strategies to work every day.
Mr Otton received his start in alternative real estate investment in 1991 in the US, and within a year acquired 76 properties. In subsequent years, he made a fortune using his low-risk, high-reward strategies to inexpensively acquire real estate. He continues to do so.
As well Mr Otton travels between his home in Australia, and the UK, sharing his wisdom and teaching others how to buy and sell real estate, free from the constraints imposed by traditional lenders.
In 2013 Rick is celebrating the 10 year anniversary of introducing his property option strategies to real estate investors in the United Kingdom – the first person to reveal these ground-breaking strategies. In 2008 he created the first of his 'Houses for a Pound' strategies, upon which he grows as markets and laws evolve.
Mr Otton has been featured in a variety of television programs and magazines and in 2013 he published 'How To Buy A House For A Dollar' for the Australian market. This book has been named in the list of the Top 10 Most Popular Finance Titles for 2013, as voted by Money Magazine and Dymocks Book stores. A UK version is on the drawing board.
For full details of Mr Otton's upcoming 'How to Buy a House for a Dollar' seminars in major cities across the nation, visit HowToBuyAHouseForADollar.com or phone, in Australia 1300 888 450.
For general information about Mr Otton, visit http://www.RickOtton.com.