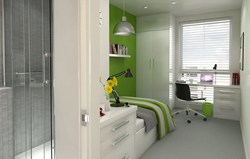 The Paramount will be 440 rooms of student accommodation, based in the heart of Liverpool and offers 9% assured yields for 5-years.
London, UK (PRWEB UK) 5 August 2013
Since the soft launch of Select UK Propert y in June 2013, the firm has gone from strength to strength – expanding their portfolio of projects, which are proving to be extremely popular with a global client base.
Pauline Bonnani, Managing Director has commented on the success of the new brand;
"I'm extremely proud of the success of Select UK Property so far. The team have been working tremendously hard, talking to a number of global investors. We've got some great projects on offer, and have sold an impressive number of suites and rooms in a variety of locations across the United Kingdom."
Investors have been eager to purchase current projects, including Smithy Bridge Care Home – an off-plan investment located in Greater Manchester, which has sold out within weeks of being launched.
Building on the success of Campus House, a student accommodation investment in Bradford, the firm have recently added The Paramount, student accommodation in Liverpool, to their portfolio.
According to The Times, Student Accommodation is the best performing asset in the UK property market today, and it's easy to see why. Supply is far out-weighing demand and with a growing number of both UK and overseas students being drawn to the fantastic education on offer across the country, this demand is only set to increase.
The requirement for purpose built student accommodation is increasing and as a result, this investment class is offering up to 10% returns.
The Paramount will be a purpose built development of 440 student rooms over 10-floors of accommodation. Rooms will be segmented into clusters of 4–7 units, and will offer an extremely high standard of accommodation, including studio bedrooms featuring kitchenettes, and flat-screen TV's.
Prices start at £54,995 and offer 9% assured yields for 5-years, along with the potential that returns will increase from year 6. Based in the heart of Liverpool City Centre, the units will be ready for the 2014 academic year and are set to face exceptional demand from students attending one of the many internationally renowned universities and colleges in Liverpool.
Notes to Editors:
Select UK Property is the UK division of Select Resorts. Their mission is to offer the best UK property investments to investors worldwide.
Offering UK property investment projects with guaranteed returns and prices starting from as little as £25,000 the company is building on a wealth of knowledge obtained from over 30 years of industry experience.
To find out more about the company, please visit http://www.selectukproperty.com.