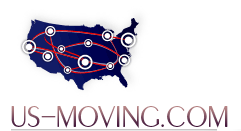 US-Moving.com has always been on a search for ways to provide hassle free moving services to the customers
(PRWEB) August 03, 2013
International moving can turn out to be a nightmare if no assistance is taken from the expert movers. US-Moving.com recognizes the fact and therefore provides a customized solution through their site. Being an age old player in the industry, this company shares valuable moving tips from its experience. International moving requires a person to go through multiple processes, because of which customers are left with very little time to explore the market and find the best movers in the country. US-Moving.com simplifies the task for the customers and helps them save time. The company has recently added a feature to their site which will help customers get the most competitive prices from the best movers with a good record in international moving.
US-Moving.com has always been on a search for ways to provide hassle free moving services to the customers. Their dedication and hard work have helped them appear as one of the most reputable moving companies in this country. This company has tried to build a network of the most reputable movers. Professionals from US-Moving.com say that customers looking for full fledged and self service moving options can get the most competitive price from their site.
Basically, the customers request price quotes by filling out an online form and furnishing the relevant information. After getting information from the customers, the experts from the company filter the moving companies best matching to their criteria. This process takes just a couple of days. Customers are provided with a list of movers with the best possible prices. US-Moving.com is proud to announce this new, valuable time saving process for the customers. Cases of last minute moving hazards are very common these days. To ensure this type of incidents don't take place, customers have to make informed decisions. As always, http://www.US-Moving.com is attempting to help their customers with new and time saving services, which can be more fully explored on the website.
By availing this service, customers can literally ward off the risky moving hassles at the last moment. They also can have a better idea about the prices before deciding on the final moving company. That way customers can get the best price and most reliable moving companies. The online quote application process offered by US-Moving.com is absolutely free and time saving. This company has added this and other new services to better serve customers with international and different other moving requirements.