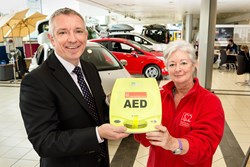 We are delighted to be working in partnership with BHF Scotland to bring this potentially life-saving equipment to the communities around our dealership.
Inverness, UK (PRWEB UK) 8 August 2013
Automatic External Defibrillators (AEDs)(1) have been placed at the Ford dealerships in Inverness and Elgin. AEDs have the potential to save the lives of people who go into cardiac arrest(2). Some of the team at Macrae & Dick have received full training in how to use the AEDs and provide CPR.
Bill Maclean, Finance Director, Macrae & Dick said: "We are delighted to be working in partnership with BHF Scotland to bring this potentially life-saving equipment to the communities around our dealership. A huge thank you also to the Scottish Ambulance Service who came in and trained the staff in how to use the AEDs."
Kathy McIlwaine, local Fundraising Volunteer Manager at BHF Scotland, said: "We're really pleased to have been able to work with Macrae & Dick to provide AEDs that could aid their staff, customers and neighbouring businesses. "We're only able to provide funding for this equipment thanks to donations and fundraising by people in Scotland, so I'd urge locals to support BHF Scotland to help us continue the fight for every heartbeat.
"We know that most cardiac arrests happen out of hospital. When someone has a cardiac arrest, time is crucial so having an AED on site - with people trained to use it - gives a person the best possible chance of survival."
ENDS
Notes to the Editor

Established in 1878 Macrae & Dick Limited has always had an association with the car industry. It is one of the longest established dealers in Scotland. With dealerships in Inverness, Elgin, Aberdeen, Perth and Stirling, Macrae & Dick employs over 450 people within the region. We are proud to have the franchises for Ford, Honda, Jaguar, Land Rover, Toyota and Mazda and under the Menzies brand BMW and MINI (in Stirling).
Macrae & Dick work exclusively within the retail motor industry and related fields. They have workshops and outlets that provide service, parts and body repair work. These include retail and wholesale parts operations and the supply of parts for all makes of cars and vans. With an accident repair centre in Inverness, 'Hi-Tech' which is an accredited ARC centre and offers accident management for all types of vehicles.
The group also has four fast fit centres based in Inverness, Elgin, Perth and Stirling trading under the 'Rapid Fit' banner, together with the Budget Car Rental franchise based in Inverness offering car and van rental at competitive prices.
For further information on Macrae & Dick Limited visit the website on http://www.macraeanddick.co.uk
(1)An Automated External Defibrillator or AED is a life-saving machine that can give the heart a controlled electrical shock during a cardiac arrest. For every minute that passes without defibrillation chances of survival decrease by about 10 per cent. Research shows that giving a controlled shock within five minutes of collapse provides the best possible chance of survival.
(2)A cardiac arrest is when your heart stops pumping blood around your body. You are unresponsive and won't be breathing normally. Immediate CPR (cardiopulmonary resuscitation) and defibrillation is needed to have any chance of survival. If you're untrained or worried about rescue breaths, hands-only CPR can increase a person's chances of survival prior to a defibrillator and professional help arriving.
BHF Scotland- Coronary heart disease is Scotland's single biggest killer. For over 50 years we've pioneered research that's transformed the lives of people living with heart and circulatory conditions. Our work has been central to the discoveries of vital treatments that are changing the fight against heart disease. But so many people still need our help. From babies born with life-threatening heart problems to the many mums, dads and grandparents who survive a heart attack and endure the daily battles of heart failure.