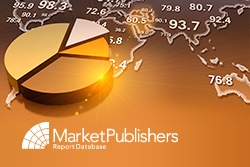 London, UK (PRWEB) August 02, 2013
In 2010, the world demand for thermoplastic polyurethane (TPU) was worth just over USD 987 million. The demand for TPU is highest in the EMEA region. APAC is set to become the most promising market in the closest run. By application, the global TPU market is led by the extrusion sector in terms of revenue and volume.
The worldwide demand for TPU is likely to experience healthy growth in the near future, mainly driven by the upsurge in the global footwear and automotive industries. With volatility in raw material costs and rising environmental concerns, however, the market is being currently restrained.
Topical research study "Global Overview of the Thermoplastic Polyurethane Market 4th Edition" prepared by IAL Consultants has been recently published by Market Publishers Ltd.
Report Details:
Title: Global Overview of the Thermoplastic Polyurethane Market 4th Edition
Published: July, 2013
Pages: 245
Price: US$ 4,600.00
http://marketpublishers.com/report/polymers/thermoplastic/global-overview-of-thermoplastic-polyurthane-market-4th-edition.html
The report is an essential source of cutting-edge qualitative and quantitative information on the TPU market. It presents an all round market analysis, examines factors and trends shaping the market, discusses hot industry issues, and also contains a comprehensive market assessment by technology type, end-use sector and geography. The research study discloses production and consumption statistics both worldwide and by region/county, grants access to the vital information on the leading manufacturers and covers the raw materials market in detail. In addition, the future forecast for the industry development through to 2017 is available in the report as well.
Report Scope:

Extensive overview of the global TPU market.
Critical data on the production and consumption globally and by region/country.
Examination of the raw materials market.
Insights into the technical background.
Discussion of the prevailing industry trends.
Comprehensive market assessment by technology type and end-use sector.
Vital information on the leading TPUproducers.
Details on the factors having influence on the industry.
Future forecast up to 2017.
More research studies by the publisher can be found at IAL Consultants page.