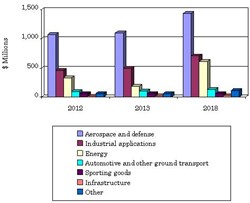 Wellesley, MA (PRWEB) August 05, 2013
According to a new technical market research report, ADVANCED STRUCTURAL CARBON PRODUCTS: FIBERS, FOAMS & COMPOSITES (Report code: AVM038E) from BCC Research (http://www.bccresearch.com), the U.S. market for structural carbon materials is expected to reach $2.0 billion in 2013. BCC Research expects the market to grow to $3.1 billion by 2018, and register a five-year compound annual growth rate (CAGR) of 8.8% for the period 2013 to 2018.
Structural carbon technologies are experiencing a shift in demand from mature markets such as defense and aerospace to other new markets due to continuous technical innovations and reductions in cost. The improvements in structure-property relationships of advanced carbon materials and the breakthroughs in manufacturing processes will lead to several novel applications for structural carbon technologies in the future. This study analyzes the driving forces that will shape the structural carbons industry over the next five years.
This study is an update of an earlier BCC report. The structural carbon materials industry and markets have continued to develop in the two years since the previous edition was published in 2011. The goal of this report is to provide a comprehensive understanding of advances in structural carbon materials manufacturing, their commercial applications, and worldwide markets. For the purposes of this report, these include all types of carbon fibers, carbon foams, monolithic structural graphite, carbon-reinforced carbon composites, and certain graphene materials.
The aerospace and defense segment is the largest U.S. market for structural carbon materials (chiefly carbon fibers and carbon-carbon composites). According to BCC Research, the aerospace and defense segment is expected to reach $1.1 billion in 2013. This market is expected to grow to nearly $1.4 billion in 2018, and register a CAGR of 5.5%. Industrial applications such as corrosion-resistant chemical process equipment and refractories make up the second-largest market segment for this industry. This segment was valued at $493 million in 2013 and is expected to reach $709.3 million in 2018, to register a CAGR of 7.5%.
This report covers technological, economic, and business conditions in the structural carbons industry. Although this report is primarily a study of the U.S. market; analysis and forecasts are also provided for global markets. This study also includes the descriptions of market forces relevant to the structural carbons industry and their areas of application. The study presents the U.S. market by type of structural carbons along with growth forecasts through 2018. The report also examines the industry structure along with its driving forces.
The information presented in this study will be useful to members of the financial community, chief executive officers, and directors of planning, manufacturing, engineering, and research and development. The report will also be useful to contractors involved in aerospace and aircraft manufacturing and companies engaged in developing competitive materials and technologies such as other reinforcement fibers like Kevlar or composites manufactured with other matrix materials such as ceramics or metal.