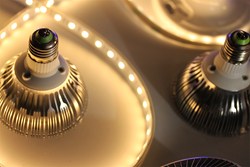 Visitors can evaluate LED lights in fixtures, tour the production floor, and get a sense of how this small but ambitious company operates.
New York City, NY (PRWEB) August 05, 2013
LED lighting manufacturer LED Waves is inviting the public to visit their new headquarters in the Sunset Park Industrial District in Brooklyn, New York. Since relocating in May of this year, the small business has met the challenge of settling into their new space while maintaining day-to-day operations.
An original equipment manufacturer, a significant part of LED Waves' in-house operations includes the design, engineering, and assembly of their exclusive line of LED floods and spotlights made in the U.S.A. By moving to the new 19,000-square-foot location, the company gained over three times the space for their production floor and warehouse. These factors allow LED Waves to keep more items in stock and offer shorter lead times, accelerating the adoption of their energy-saving LED lights.
LED Waves supplies end-users with the help of their e-commerce store at LEDWaves.com. To reduce middle men costs, they also deal over the phone directly with retailers and other large quantity specifiers for residential, commercial and industrial lighting applications.
In the absence of a brick-and-mortar storefront, opportunities for new customers to test and compare the light quality of these LED lamps had been limited. CEO Joel Slavis is now excited to welcome the public to see the full picture in the newly upgraded LED Waves headquarters. There, visitors can evaluate the performance of LED lights in fixtures before making a buying decision, tour the production floor where orders are assembled, and get a general sense of how this small but ambitious company operates.
Visits may be scheduled by calling 1(800)986-0169 to ensure that particular lamps and fixtures in the options desired are ready for demonstration. LED Waves also participates in national trade shows, allowing those outside the tri-state area to see the latest LED lights in use on the exhibition floor. Their schedule can be found at LEDWaves.com/Upcoming-Trade-Shows.