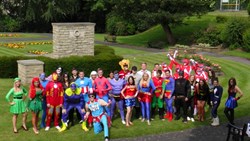 The superheroes fundraiser saw an incredible £1,312.44 raised to contribute to Tom's cause for the children's hospice.
Wilmslow, Cheshire (PRWEB UK) 5 August 2013
Friday 11th July 2013 saw the descent of superheroes and villains in their droves upon the town of Wilmslow: a take-over of epic proportions as sales training experts Pareto played host to the unlikely trio of Spiderman, Bananaman and Catwoman along with all their cronies for a day of fun, frolicking and fundraising in support of the Donna Louise Children's Hospice.
The superhero-themed day saw the entire office don fancy dress and prepare to rise to a series of challenges designed to test 5 extraordinary powers to be worthy of their superhero/villain status: knowledge, strength, speed, teamwork and, most important of all, fundraising. Divided into 5 teams known as the Justice League, the Avengers, X-Men, Villains and Batwoman heading a team of Power Rangers, the sales force of Pareto came prepared for competition and battle, with everyone from Batman and the Joker to Duffman and the Incredible Hulk ready to push up their sleeves and deliver their best. As usual, they didn't fail in their mission for success.
Challenges set throughout the day covered a variety of quests, from a superhero trivia quiz to a circuit training course and speed-eating contest, with each team competing to be named ultimate superheroes (or villians!) for the day. Diaster may have struck as Captain America fell in battle, suffering a significant foot injury in his heroic quest, but unity amongst all won out to see success in every feat.
The superhero challenges were complimented by an impressive array of cakes, brownies, cookies and goodies, all baked and donated to the cause by Pareto staff. The two heavily-laden table loads in the heart of the sales training floor proved too big a challenge for Pareto members alone, seeing team members take to the streets of Wilmslow to flog their wares and raise valuable pennies to contribute to their team totals. In addition, senior management donated a day's annual leave in a sealed bid to one lucky employee, while a raffle to secure a bottle of vodka or whisky also went down a treat for many. One team decided a portable bar in the office would also be a winner, with glasses of wine and beers featuring at the close of the day.
However, it was the celebrated performance of Pareto's own Jon Beagles (or the Green Goblin!) and his wife Jane that went down a storm as business closed for the day. Taking to the stage and performing a fantastic duet of Jay-Z and Alicia Keyes' 'Empire State of Mind' and concluding with their own innovative wedding dance that combined Latin and Ballroom styles, they brought the house down and had all and everyone on their feet.
The day, pioneered by Spiderman Tom Gillespie, was one of many fundraising feats inspired by Tom's brother Ben, who sadly passed away aged 17 in December 2012, having been diagnosed with a rare metabolic condition at 20 months. During the last 5 years of his life and throughout the period following his passing, the Donna Louise Children's Hospice provided both Ben and his family with extensive support and respite care. A charity run entirely on donations, the Hospice provides a valuable support network for families who have children with complex disabilities. Following his brother's passing, Tom has pledged to raise an impressive £5000 throughout 2013 to support the Hospice in their incredible work.
The superheroes fundraiser saw an incredible £1,312.44 raised to contribute to Tom's cause, with a special mention going out for team X-Men, who laid claim to the Beagles performance which saw them saw them generate an impressive £255.92 in total.
Tom is now preparing for his fourth and final challenge in the shape of a skydive later this year.
About Pareto Law:
Pareto Law is the UK's biggest and most successful sales enhancement company: the authority on sales, no less, since 1995. Pareto brings companies the 20% of the sales team that makes 80% of the difference.
The Pareto Effect can be experienced in many ways and it can have a remarkable, measurable effect on your business. Pareto delivers this effect through four key elements – Sales Recruitment, Sales Training, Executive Recruitment and Sales Development, bringing your business sales assessment and accreditation solutions to deliver sales excellence.