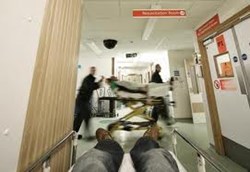 A survey has shown that 92% of doctors would 'Refuse to have a relative of theirs boarded out.'
Bolton, UK (PRWEB UK) 5 August 2013
The term "Boarding" refers to the practice of moving a patient from a specialist to a general ward (1). With research showing that patients who are moved are at a higher risk of infection, the practice could be connected to the prevalence of hospital acquired infection claims.
Examined by the University of Dundee, their research has found that a reduction in bed numbers and a rise in hospital admissions has made the practice of "Boarding" commonplace (1).
Speaking on the findings, Professor Marion McMurdo, from the university's school of medicine-
"Boarding is sometimes viewed as a necessary evil - at least compared to the alternative of having no bed in which to admit patients from the overflowing acute admissions unit. Yet, at a systems level, boarding appears to be a false economy - every ward move increases length of stay, thus exacerbating the very problem that boarding attempts to circumvent.
"Worse still, frequent moves around a hospital are likely to increase the risk of infection transmission, a factor trusts have been advised to incorporate into bed management policies."
Described as a 'Vicious Circle,' according to the BBC, boarding is put in place as a cost saving measure (1). However, the practice can increase the length of a patients stay or the likelihood of a re-admission; In turn, this puts further pressure on hospital services, negating the original cost savings.
Commenting on the research, Asons Executive, Suzanne Yates:
"These findings from the University of Dundee certainly show where improvements could be made. A survey has shown that 92% of doctors would 'refuse to have a relative of theirs boarded out,' and if that is the case then it is clear that the issues associated with the practice far outweigh the benefits.
"Common sense dictates that moving a patient around the hospital is bound to increase the risk of infection transmission, with this is mind, it is crucial that NHS Trusts re-consider the practice."
In the event that you consider yourself to have been subject to a hospital acquired infection, you must seek legal advice as quickly as possible. Taking action can prevent the same situation from reoccurring, helping others to avoid injury in future.
If you, or someone you know, have suffered as a result of an avoidable hospital acquired infection then you may be able to make a medical negligence claim for compensation. Asons Solicitors deal with hospital acquired infection compensation claims on a regular basis, you can contact them on: 0844 850 1062 or you can fill out their claim form at
Sources
(1) BBC News, 'Boarding' increases hospital stays and spreads infection, researchers say.' (29/07/2013) http://www.bbc.co.uk/news/uk-scotland-23482451
About Asons Solicitors:
Asons Solicitors is a Bolton-based law practice that specialises in personal injury and industrial disease claims. Founded by brothers Imran Akram and Kamran Akram, Asons Solicitors has developed to become a young and dynamic law firm that delivers practical solutions to clients in times of difficulty. Their continued focus on their staff has seen them awarded with the Investors in People "Gold Award"; which is reflected in the professional and personable approach they take in working with clients. They strive to grow and to develop, and their supportiveness and attention to detail ensures that their clients use them time and again.
For further information contact:
Email: info(at)asons(dot)co.uk
Website: http://www.asons.co.uk