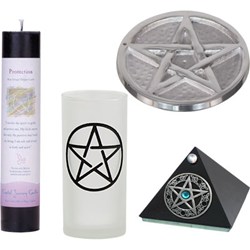 Colebrook, NH (PRWEB) August 02, 2013
Kheops International, one of the leading wholesale suppliers of metaphysical, New Age and spiritual awareness supplies, launched its Pentacle & Protection sale today. The month long sale offers saving on select pentacle inspired ash catchers, tarot boxes, cone and incense burners, candles, evil eye protections balls and more. Visit http://www.kheopsinternational.com for pricing.
Pentacles are one of the most captivating items in the well-being and spiritual awareness markets. For centuries this esoteric symbol has been prized by sages and mystics for its powers of protection. But it has also been despised by the masses for its purported association with demonic cult activity.
This often misunderstood star, in truth, is a symbol of balance and protection; it heightens power and aids in spell work. Each of the star's five points has individual meanings. The upward point represents the spirit. The remaining four points represent an element: earth, air, fire, and water.
When the pentacle is encircled it is known as a pentagram. The encasing circle is representative of the circle of life with no beginning or end; it brings wisdom, intelligence and universal protection.
Art glass boxes that are embellished with a pentacle offer protection for the treasures stored inside. They also make wonderful accent pieces that are sure to get noticed.
An evil eye protection ball offers protection from looks charged with envy, fear, resentment or other negative thoughts. Hang this powerful talisman on a wall, door or anywhere that compassion and protection are needed.
Protection candles repel negativity, destroy evil and offer protection from outside forces. When used in meditation before a trip they ensure safe travels. Remember magic happens with a Reiki charged herbal candle. Each candle from this wonderful line has been designed with a specific intention using a unique blend of essential oils.
Find saving the whole month of August on select pentacle ash catchers, tarot boxes, cone and incense burners, candles, evil eye protections balls and more. Up the savings even more with Kheops extremely popular "Promo Bundle Package."
Boilerplate Statement
Kheops International, one of the world's leading wholesale suppliers of metaphysical, new age and spiritual gifts, provides an extensive line of products for one-stop shopping, (KheopsInternational.com).
Kheops International prides itself on being one of the best wholesale suppliers of quality metaphysical products. They search the globe to bring meaningful, gifts to your store. Kheops makes it a priority to steadily increase its supply of products that have been manufactured using environmentally-sound methods. Kheops purchasing agents work diligently with suppliers to improve product quality, maintain competitive pricing and to ensure that the manufacturing processes are safe. These humanitarian efforts help to ensure a positive energy in all of their meaningful gifts.