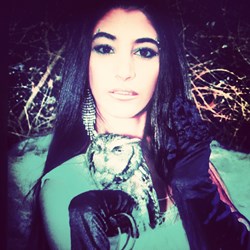 Nature never goes out of style, so let's protect it.
Manhattan, New York (PRWEB) August 05, 2013
Using eco-fashion as a source of artillery, Gabby Wild combats on the runway for endangered animals across the world by hosting the greenest fashion show of the decade at 7:00 PM on Wednesday, 7 August 2013 at the Cornell Club (6 East 44th Street). The Gabby Wild Foundation, Inc. 501(c)(3) is showcasing over 65 environmental fashion pieces from seventeen international eco-fashion designers worn by supermodels from Major Model and MIX Model Management agencies. One collection titled "12 in 12 for 12" premiering for the public includes a series of custom-designed outfits assembled by hit TV series Project Runway's alumni, each inspired by its own threatened species.
Designers from "12 in 12 for 12" include Project Runway winners Seth Aaron Henderson (representing the blue morpho butterfly) and Jay McCarroll (representing the Kakapo parrot). Other featured environmental designers include London-trained Rachael Reichert displaying her bold, black and white collection of sci-fi women's wear and lingerie, Swedish Mira Bonell showcasing her ominous collection inspired by parochial farmers of her homeland, and celebrity designer for Kim Kardashian, Eva Longoria, Heidi Klum, and several others, Althea Harper presenting her audacious autumn collection.
Gabby Wild's wildlife conservation work was inspired by her patient - a baby Thai elephant that was stolen from his mother in the jungle. Starving and lonely, he met Gabby at a hospital where he was rescued and where she volunteered her veterinary services. When they met, there was instantaneous love at first site. The baby elephant developed such a strong friendship with the supermodel/veterinary student currently attending Cornell University that her departure from the elephant hospital in Thailand left him depressed to the point that he ceased eating, broke his hindlimbs from his malnutrition, and soon thereafter passed on. This never would have happened had he been left alone to live in his home of the wild.
Motivated by him to protect all animals, Gabby has travelled across the globe working with a variety of species from jaguars in Belize to baboons in Kenya.
Funds raised from this event will go toward the conservation of some of the world's rarest and most unique threatened animals including the Sumatran tiger (fewer than 300 left in the wild and the smallest species of tiger), Kakapo parrot (only 126 left in the world and the only nocturnal, flightless, and largest parrot), red wolf (fewer than 100 left in the wild and the first carnivore ever released back in the wild after being declared extinct), and Chinese giant salamander (too few to know how many are left and the largest living species of amphibian).
Organizations partnering with The Gabby Wild Foundation, Inc. 501(c)(3) for the protection of these animals include The Zoological Society of London's EDGE of Existence Programme (UK), Ya'axche Conservation Trust (Belize), Kakapo Recovery (New Zealand), and Red Wolf Coalition (USA).
In the words of Gabby Wild, "Nature never goes out of style, so let's protect it." And that is exactly what this fashion show is set upon doing.

Limited complimentary media tickets available. Inquire for reservation or interview.
Gabby Wild is an animal activist, conservationist, and Cornell University veterinary student. Her eco-fashion efforts have been featured in Mercedes Benz Fashion Week (NY), EarthDayMiami, Fashion Fights Poverty (DC), and hundreds of media publications. Her efforts have awarded her a Hero of the Revolution by Sustainatopia and a "Champion" by the Zoological Society of London.