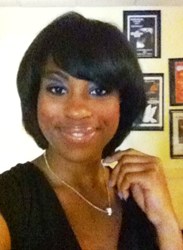 "I don't wear my glasses so I don't see anything!" Kiya confesses when performing in front of large crowds.
Hershey, Pa. (PRWEB) August 02, 2013
Milton Hershey School® senior and Pittsburgh native Kiya Jackson is usually singing her way around the Milton Hershey School campus.
"When I was little I always had a song in my head. I was always singing around the house," Kiya said.
Kiya is now singing in stadiums full of hundreds of ears listening to her voice belt out the lyrics of "The Star-Spangled Banner." For the second year in a row, Kiya will sing the National Anthem and Canadian National Anthem to start the 36th annual North American Track and Field Games held in Hershey on Saturday, August 3.
"It means so much to me. You want to deliver it the best you can," Kiya said.
Kiya compares music to a husband-- it is her 'never-ending' love. Through the School's Visual and Performing Arts program, Kiya is able to study different music and art genres. Her appreciation for the arts has grown immeasurably, and so has her music selection. Some of her favorites include Opera and Motown.
"My absolute favorite is 'Queen of the Night Aria' by Mozart," Kiya said matter-of-factly.
As one may imagine, Kiya spends most of her time outside of the classroom singing. She is involved in several School choir groups, takes voice and piano lessons, and is a member of the Susquehanna Young Women's Chorale.
Even with the endless amount of performances Kiya has been a part of, she admits she still gets nervous before performing the U.S. and Canadian National Anthems. "I don't wear my glasses so I don't see anything!" Kiya confesses. "The (Canadian) Anthem is much easier vocally than the National Anthem."
No matter what it takes to reach all the high notes Kiya is ready to lead the Hershey Track and Field Games with another gold medal performance.
About North American Track & Field Games
The 36th annual North American Track and Field Games is the largest youth sports program of its kind in North America. Hundreds of thousands of children across the United States participate in events for a chance to compete in the final meet held at Henry Hershey Field on the Milton Hershey School campus. The Henry Hershey Field was constructed and inaugurated in August 1984, hosting the seventh annual National Track and Field Youth games.