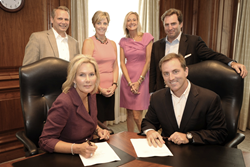 Overland Park, KS (PRWEB) August 06, 2013
Driven by the goal to do more for the men and women who have served this country, Defense Mobile Corporation is launching a new nationwide wireless service on the Sprint 4G LTE network, with a unique mobile affinity platform, integrated mobile banking, and a set of community-focused mobile applications. When it launches in 2014, the service will be available to active-duty officers and enlisted personnel of the U.S. military, including those serving or honorably discharged from the Selected Reserve and federally recognized National Guard components of the U.S. Army, Air Force, Navy, Marine Corps and Coast Guard. Cadets/midshipmen at the U.S. service academies and families of active duty U.S military and veterans are also eligible.
Sprint is a company proud to support and employ veterans and active duty military. Today, Sprint has 44 employees deployed and approximately 1,500 Sprint employees designated as veterans. Our veterans bring character, decisiveness, commitment, competitiveness, and skill to Sprint and help to make our company stronger. Sprint's commitment to the military and to veterans has received national recognition, including being named a 2012 Most Valuable Employer for Military for the fourth year in a row by CivilianJobs.com.
About Defense Mobile Corp
DMC will offer a nationwide 4G mobile service and affinity platform to the military community through the brands ArmyMobile.com, NavyMobile.com, AirForceMobile.com, and MarinesMobile.com. DMC's unique mobile banking, payments, and rewards system will enable customers to get exclusive discounts and cash back rewards on everyday purchases that they make. Defense Mobile is committed to helping military families save more, get more, and do more and will not only hire veterans but will also give 10% of corporate profits to military charities. You can learn more about Defense Mobile Corporation at http://www.defensemobilecorp.com
About Sprint
Sprint offers a comprehensive range of wireless and wireline communications services bringing the freedom of mobility to consumers, businesses and government users. Sprint served more than 53 million customers at the end of the second quarter of 2013 and is widely recognized for developing, engineering and deploying innovative technologies, including the first wireless 4G service from a national carrier in the United States; offering industry-leading mobile data services, leading prepaid brands including Virgin Mobile USA, Boost Mobile, and Assurance Wireless; instant national and international push-to-talk capabilities; and a global Tier 1 Internet backbone. The American Customer Satisfaction Index rated Sprint as the most improved company in customer satisfaction, across all 47 industries, during the last five years. Newsweek ranked Sprint No. 3 in both its 2011 and 2012 Green Rankings, listing it as one of the nation's greenest companies, the highest of any telecommunications company. You can learn more and visit Sprint at http://www.sprint.com or http://www.facebook.com/sprint and http://www.twitter.com/sprint .