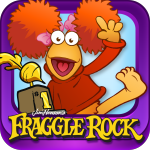 "We remain committed to releasing Fraggle Rock apps that continue to bring this wonderful world to life for fans everywhere," said Susan Miller, president of Cupcake Digital.
New York, NY; Hollywood, CA (PRWEB) August 15, 2013
The celebration of the 30th anniversary of "Fraggle Rock" continues as Cupcake Digital announces an all-new interactive story adventure app based on the beloved series created by Jim Henson. Fraggle Rock Game Day stars the adorable, pig-tailed Red as she does loads of laundry, makes the biggest splash, and picks radishes on her way to having a record-breaking game day. While Red is busy on her quest to be the best of the best, Junior Gorg captures her Fraggle friends. Will Red also be able to save Boober, Gobo, Mokey and Wembley? The full story is available today for $2.99 on the Apple App Store, Amazon, Google Play and the Barnes & Noble NOOK Store™ for iOS, Android, NOOK and Kindle Fire platforms.
In addition to the playful story app, Cupcake Digital is making Fraggle Friends Forever available for free (regularly $2.99) from August 15-19 on iTunes and Amazon. This first Fraggle Rock enhanced story app was introduced in May 2013, and has been a top-rated app ever since.
"We remain committed to releasing Fraggle Rock apps that continue to bring this wonderful world to life for fans everywhere. With Fraggle Rock Game Day, the second story app in our series, we capture the timeless qualities of the television series in a meaningful story and exciting games built for shared family time," said Susan Miller, president of Cupcake Digital.
"After 30 years, Fraggle Rock continues to delight viewers of all ages. We think our second collaboration with Cupcake Digital will engage the children of parents who have been Fraggle fans since their childhood as well as introduce new families to the franchise," said Melissa Segal, executive vice president of global consumer products, The Jim Henson Company."
Fraggle Rock Game Day includes vibrant animations, learning games, coloring pages, and other features, including:

Text highlighting, synced narration, silly sound effects, and three reading modes: Read & Play, Read to Me, and Just a Book for quiet reading time
Games and skill-building activities, include Whack-A-Radish, Doozer's Crossing and Alpha Suds, designed to help young learners with spelling, letter recognition, shape identification and counting
Creative coloring pages with fun Fraggle Rock scenes straight from the story
A Common Core Corner detailing educational experiences infused within the app to help prepare children for the Common Core State Standards (CCSS)
The Grown-Up's Corner offers thoughtful questions about the story designed to spark open-ended conversation and reinforce reading comprehension
CupcakeDigital.com provides more ways for parents and caregivers to enhance the app experiences for kids with free downloadable educational activities. Also available is a Parents' and a Teachers' Guide for practical tips to help children get ready for school and utilize apps in furthering education in and out of the classroom.
###
FRAGGLE ROCK Synopsis
Created by Jim Henson, Fraggle Rock stars a cast of puppet creatures called Fraggles, quirky cave-dwellers who live in an underground world alongside their industrious green neighbors, the Doozers and a family of enormous Gorgs. The show has been seen in over 80 countries and continues to enjoy a loyal international fan following while encouraging friendship, tolerance and diversity with fun adventures and a unique mix of music from all genres including folk, blues, gospel, country and rock.
About Cupcake Digital
Cupcake Digital, Inc. was established in June 2012 with the intent of transforming children's entertainment properties into enhanced story experiences infused with educational elements. The Company has created noteworthy, award-winning digital applications based on the Emmy® Award-winning television series "Wow! Wow! Wubbzy!®" and "Fraggle Rock," as well as Discovery's Animal Planet brand. The company's apps are consistently top-ranked among children's book apps on the Amazon, iTunes and NOOK app stores. Headquartered in NYC, Cupcake Digital was founded by proven professionals in the fields of technology, family entertainment, publishing and brand marketing. In October 2012, Cupcake Digital received its first round of private funding and has since gone on to partner with additional major children's entertainment properties. For more information about Cupcake Digital Inc., please visit http://www.cupcakedigital.com.
About The Jim Henson Company
The Jim Henson Company has remained an established leader in family entertainment for over 50 years and is recognized worldwide as an innovator in puppetry, animatronics and digital animation. Best known as creators of the world famous Muppets, Henson has received over 50 Emmy Awards and nine Grammy Awards. Recent credits include the Emmy® nominated "Sid the Science Kid," and "Dinosaur Train" as well as "Wilson & Ditch: Digging America," "Pajanimals" and "Doozers." Features include "The Dark Crystal," "Labyrinth," "MirrorMask," and "Unstable Fables" and television productions include "Fraggle Rock" and the sci-fi cult series "Farscape." Independently owned and operated by the five adult children of founder Jim Henson, the Company is also home to Jim Henson's Creature Shop™, a pre-eminent character-building and visual effects group with international film, television and advertising clients, as well as Henson Recording Studios, one of the music industry's top recording facilities known for its world-class blend of state-of-the-art and vintage equipment. http://www.henson.com