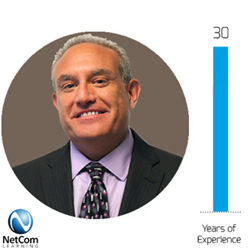 We are very pleased and excited to have someone with as much experience and knowledge as David Fremed to be our new CFO as we expand our mission to promote the values of lifelong learning.
New York, NY (PRWEB) August 05, 2013
NetCom Learning, the leader in business and information technology training, announces the appointment of David Fremed as the new Chief Financial Officer for the company. David will direct all financial aspects of the company, from raising capital to grow the company, to overseeing capital management such as budgeting and accounting practices. David will implement proper procedures to improve cash management, and maintain the company's banking relationship, in addition to interface with the financial community and create new profitability targets for growth including future mergers and acquisitions. At NetCom Learning, David will also build financial modeling, establish financial reporting, and proper budgeting to be able to provide accurate forecasts.
David has over 30 years of experience; he comes to NetCom Learning with a broad based financial experience as a Chief Financial Officer, having served as CFO for both private and publicly traded companies over the last fifteen years. David has been the Chief Financial Officer for such well-known companies as Marvel Entertainment, Zoo Entertainment, Grand Toys International, and Atari. While at Grand Toys International, in his positions as both Executive Vice President and then Chief Financial Officer, David was instrumental in growing the company from $10 million to $150 million in two years. Most recently, David has been an Engagement Partner for Tatum, a Randstad Company.
"David joins us as NetCom Learning is growing to the next level of profitability and physical expansion," said Russell Sarder, CEO of NetCom Learning. "We are very pleased and excited to have someone with as much experience and knowledge as David Fremed to be our new CFO as we expand our mission to promote the values of lifelong learning. His proven track record will help us raise capital and establish a location based profit and loss model that will allow us to move forward with our plans of expansion," said Sarder.
David has extensive knowledge of company financial operations including budgeting, forecasting and strategic planning. At Atari, as Senior Vice President of Finance and then the company CFO, he was responsible for all financial operations including as SEC reporting and compliance, and financial planning. His expertise includes international mergers and acquisitions, including execution and analysis, financial reporting, corporate fund raising, budgeting and planning. He has worked for companies in the areas of computer game software, technology, toys, domestic and international manufacturing and wholesale distribution. David holds a Masters in Business Administration from New York University and he is also a Certified Public Accountant.
NetCom Learning is the top US finalist for 2013 Microsoft Learning Partner of the Year, in 2007 the company was chosen as winner of Microsoft Learning Partner of the Year from a pool of 1400 training companies. NetCom Learning is also a Microsoft Gold Certified Partner for Learning Solutions (CPLS). NetCom Learning instructors who routinely achieve high ratings from their students possess an average of 16 years of experience and a cumulative average of more than 10,500 years' experience in the field of their expertise. Instructors carry an average instructor evaluation of 8.6 out of 9, one of the highest instructor evaluations in the industry. The high quality of training has resulted in over 2,000 testimonials and a 96% customer satisfaction rate with those customers indicating they would recommend NetCom Learning to others.
The company is currently seeking for investors interested in the education industry. As NetCom Learning, the leader in business and IT training also offers a learning channel providing interviews with top industry leaders called Sarder TV, another platform available through the company is Learninggg, an affordable video learning platform available 24/7 from anywhere in the world. The company is seeking investors who are interested in an opportunity to participate in NetCom Learning's mission to promote the values of lifelong learning. NetCom Learning presents an excellent investment prospect for investors looking to get in on the ground floor of a multimillion dollar movement. Join with other top investors to become a part of our exciting new offerings. For more information on investment opportunities get in touch with Yang, General Manager, Investor Relations at (646) 747-7732 or yang(at)netcomlearning(dot)com.
To learn more about NetCom Learning's leadership team visit: http://www.netcomlearning.com/about-us/management.html?advid=412
Watch this video where Russell explains why growth matters: http://www.youtube.com/watch?feature=player_embedded&v=DdFqcquCOM0
About NetCom Learning
NetCom Learning is an innovative leader in IT, business and executive training to companies, individuals, and government agencies. Since its inception in 1998, NetCom Learning has trained over 80 percent of the Fortune 100, serviced over 45,500 business customers, and advanced the skills of more than 71,000 professionals through hands-on, expert-led training, with the organization maintaining an average instructor evaluation score of 8.6 out of 9. NetCom Learning was recognized by Microsoft Corporation as its Worldwide Training Partner of the Year and named thrice to Inc. Magazine's list of fastest growing private companies in America. The organization was also recently named to the 2012 Top 20 IT Training Companies by TrainingIndustry.com and was named "Company of the Year" by the American Business Awards.
The purpose of NetCom Learning is to promote the values of lifelong learning.