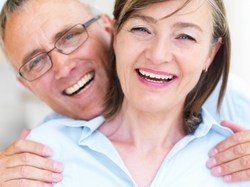 Lake Oswego, Oregon (PRWEB) August 05, 2013
Dr. Manami Yamaguchi recently became the first dentist to complete both standard and advanced courses in Strickland Facelift Dentures™. She is now able to provide Strickland Facelift Dentures™ to patients from the greater Portland area and other cities in Oregon.
About Strickland Facelift Dentures™ - Change that "Denture Look"
Strickland Facelift Dentures™ are a new solution for people who are suffering from "denture look" - an uneven, sunken face with flat teeth that results from the long-term use of conventional/traditional denture(s) or even less detailed economy denture(s). Not all dentures look the same and patients do not have to live with that "denture look"; with proper making (by a certified laboratory) and fitting of Strickland Facelift Dentures, the face can appear more lifted, younger and firmer. Strickland Facelift Dentures ™ not only improve dental aesthetics but also restore dental health and enhance facial appearance with a face-lift effect without surgery. The beautiful results and effectiveness of treatment is the main reason why Dr. Yamaguchi grew interested in this cosmetic service.
How Strickland Facelift Dentures™ Work
Strickland Facelift Dentures™ are based on the sound principles of neuromuscular dentistry, a field of dental health that focuses on how the hard tissues (joints, teeth and bones) and the soft tissues (nerves and muscles) work together in harmony. By employing the principles and techniques of neuromuscular dentistry, along with the Strickland Facelift Dentures™ treatment, dentist can determine (1) the correct length for the face; (2) the best front teeth for the lips, chin, and face; and (3) the most retentive design for the optimum function and jaw position.
With or Without Teeth: Dental Arts and Wellness Approach for All
Neuromuscular dentistry and Bioesthetic dentistry have long interested Dr. Yamaguchi; this area of dentistry places emphasis on an intricate relationship between nerves and muscles of the head, neck, and joints. Dr. Yamaguchi's training allows her to employ more than the neuromuscular approach; she and her team are interested in how the hard and soft tissues work together and what this means for the overall wellness of patients. Patients whose dental problems involve existing natural teeth may benefit from Dr. Yamaguchi's extensive bioesthetic background and training. Now, patients can achieve dental wellness and beauty whether they have teeth of their own or are in need of prosthetic denture teeth.
The Latest Step in Dr. Yamaguchi's Commitment to Anti-aging Care
Prior to the completion of the Strickland Facelift Dentures™ courses, Dr. Yamaguchi became so interested in health-based, comprehensive anti-aging care that she took many advanced courses in the subject at the Las Vegas Institute for Advanced Dental Studies (LVI), Seattle Kois Center in Advanced Dentistry, and the Optimal Biology International (OBI).
Dr. Yamaguchi is also one of fewer than 300 dentists in the world to have completed the full curriculum of Bioesthetic Rejuvenation at the Optimal Biology International (OBI). OBI is a non-profit institute committed to research and education in the field of biological dental health. Full certification from Level I to IV requires three to four years of meticulous documentation, demonstration, and public presentation on patient care, esthetic and functional improvements, and positive impact on patients' health.
In addition to Strickland Facelift Dentures™, Dr. Yamaguchi offers the following advanced anti-aging dental therapies:

Bioesthetic Rejuvenation®
Full-mouth Rehabilitation/Reconstruction (With Implant Surgeons, if Needed)
Invisalign®
Six-Month Smiles®
One-visit Veneers
KöR Whitening
What This Means for Patients of Dr. Yamaguchi
The use of Strickland Facelift Dentures™ is yet another technique that Dr. Yamaguchi employs to promote comprehensive dental health and anti-aging beauty.
With a highly customized approach to both function and esthetics beyond traditional dental care, Strickland Facelift Dentures™ improve both health and appearance simultaneously. The treatment can be combined with cosmetic dentistry treatments such as smile makeovers, crowns, and/or teeth whitening, effective treatments that can give patients the winning smile that they have always wanted. In addition, Strickland Facelift Dentures™ can serve as part of a full-mouth reconstruction, which will address serious dental health issues.
Whatever the case, for Dr. Yamaguchi's patients, wellness and aesthetics will go hand in hand thanks to Strickland Facelift Dentures™ and other advanced anti-aging therapies.
Comprehensive Patient Care, Total Wellness
Those interested in Strickland Facelift Dentures™ are encouraged to contact Dr. Yamguchi's dental care practice serving Portland, Oregon and surrounding communities. Dr. Yamaguchi will address all concerns about Strickland Facelift Dentures™ and help patients discover the dental health solution that is right for them.
Dental Arts & Wellness is located at 15074 Bangy Rd., Lake Oswego, OR 97035.
Originally posted by Manami Yamaguchi.