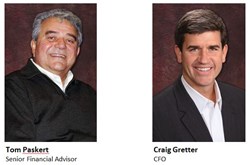 Much of our success and ability to expand and acquire new businesses is the result of the strong financial leadership Tom has provided over the years. - Ron Ringness; Partner/Executive VP- Sales, Marketing & Technology
Vienna, Ohio (PRWEB) August 20, 2013
Millwood, Inc. (http://www.millwoodinc.com), a worldwide industry leader and innovator of unit load and packaging systems, materials and services, has appointed Tom Paskert its senior Corporate Financial Advisor. The company has also named Craig Gretter as Chief Financial Officer.
Paskert has served as Executive Vice President and Chief Financial Officer since he joined Millwood in 1998. He has been a central figure in the company's growth from a startup to an industry leader with over $200 million in revenue. In 2004, Paskert led the executive team through a rigorous long range planning process and was instrumental in a series of four strategic acquisitions in the following years. In 2012, he was a finalist for Crain's CFO of the Year award for Northeast Ohio.
"When we founded Millwood, Steve Miller and I brought in Tom to solidify the integrity and financial structure of the business," said Lionel "Chip" Trebilcock, President and a Partner. "It's one of the best decisions we ever made. We look forward to many more years of working with Tom in his new position."
In his new role, Paskert will remain a member of Millwood's executive team. He will also oversee the financial management of Millwood's ancillary businesses, including the management of Millwood properties. Finally, he will represent the company at economic forums and business summits and work closely in an advisory role with the new CFO.
"Much of our success and ability to expand and acquire new businesses is the result of the strong financial leadership Tom has provided over the years," said Ron Ringness, Executive Vice President, Sales, Marketing & Technology, and a Partner. "He'll continue to offer his insights and experience to Craig and the rest of the executive management team as we move forward."
Gretter joined Millwood in early 2013 after 10 years as, first, a corporate and securities attorney and then an investment banker. He has overseen Corporate Business Development since joining Millwood, and he will continue to oversee that function in addition to having responsibility for Millwood's financial strategy, accounting operations, strategic planning, and information systems. Gretter graduated from Davidson College and holds a joint JD/MBA from Case Western University.