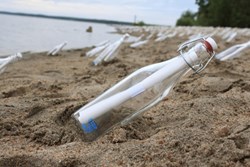 These are our Great Lakes, but they are becoming less great every day.
Georgian Bay, Ontario (PRWEB) August 08, 2013
Stop The Drop, a Georgian Bay-based non-profit organization, is working hard to help the public understand and pay attention to low water level issues while helping our political leaders appreciate how broad and strong public opinion is on the subject.
The first of many Stop The Drop "Message-In-A-Bottle" events being held this summer in and around Georgian Bay first launched on the morning of Saturday, June 29th, 2013. Visitors to Killbear Provincial Park's Day Use Beach were greeted by an unusual sight – over 2000 bottles seemingly spat up on the shore, each containing a message from Georgian Bay itself: that something must be done about Lake Huron's dropping water levels before it's too late.
"People go up to the Bay to escape and unplug. We had to reach beachgoers without modern media like TV and online," says Angus Tucker, executive creative director at john st, the advertising agency behind the stunt. "So we delivered our distress call from the Bay using one of the oldest methods in the book – the message in a bottle."
The stunt helped launch Stop The Drop, a Georgian Bay-based not-for-profit organization working to raise awareness about the alarming drop in Lake Huron's water levels and drive government action on the issue.
"These are our Great Lakes, but they are becoming less great every day," said Colin Dobell, director of Stop the Drop. "Lake Huron hit its lowest recorded level in January 2013, and remains well below its 'crisis level' established 20 years ago. Local communities and businesses are threatened, not to mention our fishing, farming, mining, shipping and logging industries. Wetlands, spawning grounds and wildlife are also in danger." Dobell continued, "Our online community makes it easy for all who use or enjoy the lake to stay informed about this issue and make their voice heard."
Stop the Drop's first goal is to build its online community to 20,000 registered members by Labour Day. "We need to show our elected officials that there are a lot of voters in these areas who are watching to see that something gets done," says Dobell.
A press conference was held on the beach after the bottle stunt where Dobell was joined by government officials including the Mayors of Carling Township and McDougall Municipality, as well as the MPPs of Bruce-Grey-Owen Sound, Simcoe North and Parry Sound-Muskoka.
"Our hope is that by the end of the summer, anyone who cares about the health of Georgian Bay and Lake Huron knows who we are and has signed on to show support," adds Dobell. "Registering at stopthedrop.ca and getting the word out is how you can help Stop the Drop."
To get involved or learn more about Stop The Drop and their online community, visit http://www.stopthedrop.ca/.