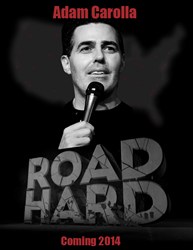 "Reaching $1 million dollars is amazing! I'm blown away by the response from my fans who have proven that you don't need Hollywood to make a great movie," said Carolla. "We've succeeded beyond my wildest dreams with the help of FundAnything.com."
Santa Monica, CA (PRWEB) August 02, 2013
Comedian and podcast king Adam Carolla can now add "crowdfunding leader" to his title, with today's announcement that the crowd funding campaign for his new movie "Road Hard" has broken through the $1 million mark. Launched on FundAnything July 2nd, Carolla's is the most successful crowdfunding campaign for a comedian.
"Reaching $1 million dollars is amazing! I'm blown away by the response from my fans who have proven that you don't need Hollywood to make a great movie," said Carolla. "I really wanted to prove this can be done outside of the system. We've succeeded beyond my wildest dreams with the help of the folks at FundAnything.com."
Carolla will write, direct and star in Road Hard, an independent film about the journey of a former standup-turned-sitcom-star who, after the cancellation of his show and a divorce, is forced to go back on the road and perform at the dumpy clubs he played on the way up. The film is being co-written and co-directed with Kevin Hench (The Hammer).
"We are very proud that Adam Carolla achieved this record-breaking success on FundAnything.com," said Bill Zanker, the site's co-founder and CEO. "We only launched three months ago, and are the fastest growing crowdfunding site. But of course, we have Donald Trump as our backer."
Carolla chose the FundAnything site over others when he learned that his friend and former Celebrity Apprentice "boss" Donald Trump had launched the crowdfunding site with business partner Bill Zanker. FundAnything has seen explosive growth since its launch in May 2013, and Carolla's movie campaign reached its $1 million dollar goal in less than 30 days.
Fans who have made a contribution to the campaign have received rewards including, Adam Carolla's voice on contributors' voicemail, executive producer credit, a private performance by Adam Carolla, and an opportunity to appear in the movie. Although the campaign has already reached its financial goal, the project will continue raising funds and remain live on the FundAnything.com site through the end of August. Carolla launched his "Road Hard" campaign video featuring Bryan Cranston (Breaking Bad) to a national audience on Jimmy Kimmel Live!
To learn more about FundAnything, become a fan on Facebook, and follow us on Twitter.
About Adam Carolla:
Adam Carolla is one of the most versatile men in Hollywood, currently hosting The Adam Carolla Show, which holds the Guinness World Record for the most downloaded podcast and was named iTunes Best Podcast of 2012. Carolla is the author of two New York Times bestsellers: Not Taco Bell Material and In Fifty Years We'll All Be Chicks. The audiobook for Not Taco Bell Material also rightfully claimed a spot as one of only two comedy audiobooks on the iTunes Top 10 List of 2012. Carolla can also be seen on Fox News Channel's The O'Reilly Factor with his weekly segment "Rollin' with Carolla." Carolla co-created and co-starred in two hit Comedy Central shows, The Man Show (1999-2003) and Crank Yankers (2002-2007). He is well known for co-hosting the radio and MTV show Loveline. Carolla wrote, co-produced and starred in the independent boxing feature film, The Hammer. The Hammer made its world premiere at the 2007 Tribeca Film Festival in New York. In 2012 Carolla released his signature wine spirit, Mangria, which has sold over 1,000,000 bottles. Carolla is an automobile enthusiast with an eclectic collection of racing and exotic vehicles. He won the Toyota Grand Prix this year in the pro category and last year as a celebrity, making him the only person to have won both titles.
About Fundanything.com:
FundAnything is a fast way for anyone to raise funds for anything. Individuals or groups can create campaign pages that highlight their personal stories or needs. Campaigns can offer incentives to contributors such as products, gifts and services. Campaigns can range from business startups and people dealing with personal crisis to celebrations of happy events. There is no limit to the amount of money you can raise. Contributions go directly to the campaign creators, and they can withdraw their funds immediately. Donald Trump also picks projects he personally funds. The crowdfunding industry is growing rapidly, and is expected to exceed $8 billion dollars by the end of this year.