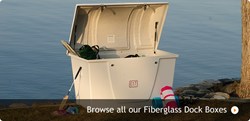 Imagine adding an additional 500 square feet of secure, weatherproof storage to your home
Goshen, Indiana (PRWEB) August 10, 2013
Prepare to rethink the entire home storage strategy because the complete line of all-weather storage deck and dock boxes from OutdoorDockBox.com is a game changer. Built to literally last a life time of use, these sturdy construction boxes are lockable and seal tight for complete storage protection.
"Imagine adding an additional 500 square feet of secure storage to your home," says Tim Pletcher, marketing adviser for the company. "With a few strategically placed units a property becomes less cluttered and the gear is closer to the actual point of use."
"Face to Face Stores is very strategic about the exact products that are being made available. For example replace one of your deck loungers with our storage seat to have all your deck, cooking, pool or outdoor gear within arm's length of where the action actually takes place. Plus the box doubles as a comfortable and roomy lounger that customers love."
Other really neat options include boat trailer, or sail boat boxes and deck or dock steps and stairs.
Face to Face Stores LLC has been offering high quality products and fanatical customer care for over two years now, and they have just begun! Finding niche products and reinventing the way their customers utilize space and home decor is a fundamental core of how Face to Face Stores has done business.
Contact Face to Face Stores today to learn how you can utilize deck and dock storage boxes as an interior designer or as a home owner.