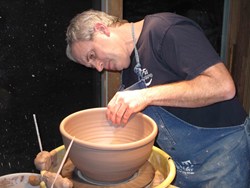 Galena, IL (PRWEB) August 07, 2013
Take the Twenty Dirty Hands Pottery Tour and enjoy a colorful fall ride through the Jo Daviess County countryside. Follow the map to six different pottery studios and galleries showing the work of ten distinctive potters. When visiting the studios, feel free to ask questions, browse the studios, watch demonstrations, or get a jump on your Christmas shopping. Each potter has a unique approach to pottery and sculpture, so be sure to stop at each studio. Begin the tour at any studio location where you can pick up a self-guided tour map; for additional information or a printable tour map, visit http://www.TwentyDirtyHands.com.
For more information on Galena and the surrounding area, go to http://www.VisitGalena.org or call our visitor center at 888.942.5362.