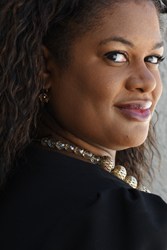 At digitalundivided, we focus on making sure urban communities are prepared to actively participate in the new economy
New York, NY (PRWEB) August 02, 2013
digitalundivided is pleased to announce that its Founder and Managing Director, Kathryn Finney, is among 11 leaders honored as a "Champion of Change for Tech Inclusion", by President Barack Obama and The White House.
Ms. Finney and the other champions of change were honored at an event at The White House celebrating Americans who are doing extraordinary things to expand technology opportunities for young learners—especially minorities, women and girls, and others from communities historically underserved or underrepresented in tech fields. Ms. Finney and the other champions are inspiring students to become the developers, engineers, and innovators who will create solutions to some of the Nation's toughest challenges.
Ms. Finney founded digitalundivided (DID), a social enterprise that develops initiatives that increase the active participation of urban communities, especially women, in the digital space, after a pioneering career in the digital and social media space as the founder of TBF Group, LLC. An honors graduate of Yale and Rutgers Universities, Ms. Finney is the recipient of several national and local awards including AOL's Top Women in Money, Black Enterprise's "40 Stars Under 40′′, and Silicon Alley Top 100. She is advisor to and angel investor in several women led startups as well as a financial supporter of programs that increase the tech pipeline like Robert Finney Tech Fund and Black Girls Code.
digitalundivided has reached over 1 million people via impact focused targeted online and offline activities. 20% of the companies that participated in DID's FOCUS100 Bootcamp/Symposium received Angel and/or Venture Funding. digitalundivided's partners include leading companies such as American Express Open Forum, Andreessen Horowitz, Kapor Capital, BlogHer and Mobile Futures.
For more information on Kathryn Finney and digitalundivided, please contact Darlene Gillard at Darlene(at)digitalundivided(dot)com.