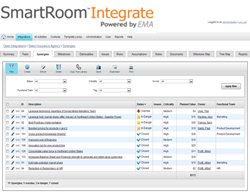 SmartRoom Integrate gives the integration team the process and technology to succeed from day one.
Greenbelt, MD (PRWEB) August 14, 2013
Deven Software announces a new strategic partnership with BMC Group, Inc. whereby EMA-Integrate will be available as a complementary transactional solution to SmartRoom. SmartRoom Integrate is a cloud-based application that provides a complete post-merger integration platform for parties to plan, manage, and execute their integration activities.
"Post-merger integration is where the value of an acquisition is lost or realized," said Nick Perdikis, CEO of Deven Software. "Integration teams face numerous challenges and risks piecing together entirely new organizations, teams, and processes. The thing we hear most often is the lack of a mature and consistent integration process gets in the way of achieving results. Spreadsheets and emails are not enough to manage all the moving pieces and few, if any, lessons learned are incorporated into the next deal. Our partnership with BMC Group is aimed directly at solving that problem. SmartRoom Integrate gives the integration team the process and technology to succeed from day one."
SmartRoom is the premier cloud-based information management solution for the financial, legal, and corporate communities. "The addition of the Integrate platform is another innovative way in which SmartRoom is continually enhancing its customer experience by providing a complete transactional lifecycle solution," said Jeff Kalina, EVP at BMC Group.
About Deven Software LLC
Deven Software offers EMA-Transact and EMA-Integrate, a web-based software suite of applications built entirely for M&A professionals and Post-Merger Integration teams. Our software is available as a SaaS application through our secure cloud environment or can be installed on-premise as a server application. For more information on Deven Software and the EMA suite of products, please visit our web site http://www.devensoft.com. Product briefings are available by contacting us at sales@devensoft.com or 855-DEVENSOFT (855-338-3676).
About BMC Group, Inc.
BMC Group, Inc. is a leading global provider of information management solutions. SmartRoomTM is a powerful cloud-based deal management solution for due diligence, M&A deals, portfolio management, fundraising, post-merger integration, secure document collaboration, restructuring, legal settlements, and medical records analysis. SmartRoom is available in nine languages, and is accessed in over 50 countries. There are over 20,000 organizations and 250,000 users who have utilized a SmartRoom. Over $300 billion worth of transactions have been managed using a SmartRoom. BMC Group clients are leading investment banks, private equity firms, hedge funds, government agencies, insurance carriers, healthcare providers, and Fortune 1000 corporations. With more than 200 professionals throughout North America, Europe, and Asia, BMC Group is committed to service excellence. http://www.smartroomservices.com