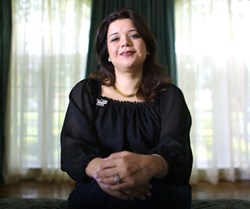 Ana Navarro proved once again, as she did on The View, how in touch she is with the political topics that people are talking about. -- Sheldon Senek, Eagles Talent Speakers Bureau
South Orange, New Jersey (PRWEB) August 04, 2013
This week, Ana Navarro, well-known CNN Analyst and Republican Strategist, was the guest co-host for ABC's The View. Ana was filling in for Barbara Walters, joining the cast of Sherri Shepard, Whoopi Goldberg, and Joy Behar.
Ana brought along her friend and colleague, also from CNN, Don Lemon. He is an journalist and TV host of the weekend edition of CNN Newsroom. Don recently made some controversial comments on his show, "No Talking Points," which Ana came to his defense.
"Don is a friend of mine, and he is so proud of his culture ... and he's doing it from a place of love and sincerity," Ana said during the show.
While Ana Navarro has spent many years as a political adviser, she is no stranger to television, as she has appeared on Meet the Press, Bill Maher's Real Time, and 360 with Anderson Cooper.
Her online biography describes: "Ana Navarro was born in Nicaragua. In 1980, as a result of the Sandinista revolution, she and her family immigrated to the United States."
"Ms. Navarro is a graduate of the University of Miami. In 1993, she obtained her Bachelor in Arts with Majors in Latin American Studies and Political Science. She obtained a Juris Doctorate in 1997. She has expertise on Latin American and Hispanic issues."
"She served as the National Co-Chair of Senator John McCain's Hispanic Advisory Council and was a national surrogate for Senator McCain's 2008 presidential campaign. She has played a role in several Federal and State races in Florida. Most recently, she served as National Hispanic Co-Chair for Governor Jon Huntsman's 2012 Campaign. She is a political contributor at CNN and CNN en Español."
"In 1997, she was a special advisor to the Government of Nicaragua and in that role, she was one of the primary advocates for NACARA (Nicaraguan Adjustment and Central American Relief Act)."
"She served on Governor Jeb Bush's transition team and served as his first Director of Immigration Policy in the Executive Office of the Governor. In 1999, Ms. Navarro returned to the private sector and has represented private and public clients on federal issues, particularly related to immigration, trade and policy affecting Central America. In 2001, she served as Ambassador to the United Nation's Human Rights Commission and was a strong advocate for the condemnation of the Government of Cuba for human rights abuses."
The View episode that Ana Navarro appeared on included screenwriter and Academy Award-Winner Jim Rash who talked Community and The Writers' Room! In addition, Plus Rapper T.I. spoke about his music video for "Blurred Lines," and his current reality show, "T.I. & Tiny: The Family Hustle." Emblem3 also appeared on the show to perform their new hit single, "Chloe."
As a highly-regarded political pundit on the platform, Ana speaking topics include global, Hispanic, and Latino issues, American Politics, and trending media. She also talks as an inspirational speaker, sharing her story and tips for being successful.
If organizations are interested in inviting Ana Navarro to present at a conference, convention, business meeting, or lecture series event, contact Eagles Talent at 1-800-345-5607.
Eagles Talent Speakers Bureau was began in 1979 with the single focus of making a positive impact on organizations by providing thought-provoking professional keynote speakers, top motivational speakers, business thought leaders to clients all over the world for their meetings, conferences, and special events. For over 30 years of service, Eagles Talent believes in people who inspire, educate, and entertain.