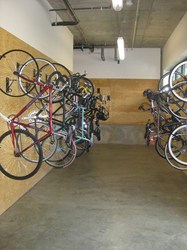 Portland, OR (PRWEB) August 06, 2013
Guardian Management LLC (Guardian), a division of Guardian Real Estate Services LLC, picks up two new apartment communities oriented toward the low-car and car-free lifestyle. Linden, a 135 unit mixed-use community located on East Burnside is currently in lease up and will open near the end of September. Guardian was also awarded the management contract for Milano Apartments on August 1st, a 60-unit community near the Rose Quarter on NE Multnomah Street.
Although Milano and Linden are unalike in design and size, they share one thing in common: a love of bicycles. Both feature state-of-the art bike storage facilities, bike repair stations and a premier location for access to bike paths and public transportation.
Portland has a long tradition of supporting bicycles as an environmentally-conscious form of transportation. "Low car households account for more than 60% of Portland's growth since 2005," writes Michael Andersen, a news editor for BikePortland.org.
"One in four Portland households now includes more adults than cars, according to the most recent Census estimates available, from 2011."
"Parking in the city is expensive, but deciding to have a car is often a socially conscious choice rather than a financial decision for our residents," says Steven Van Zile, Portfolio Manager for Guardian Management, "Milano & Linden are attracting residents who want the full urban living experience, a lifestyle that includes riding your bike or taking public transportation."
For more information about Linden and Milano, please visit their websites: http://www.lindenpdx.com and http://www.milanoportland.com.
About Guardian Management LLC:
Founded in 1971 with headquarters in Portland, Oregon and Seattle, Washington, Guardian Management LLC is the management entity of Guardian Real Estate Services LLC, a privately held, vertically-integrated, real estate management, investment and development firm. Guardian's diverse real estate experience offers property owners and investors a valuable combination of market expertise and services. With over 900 employees in eight states across the western region, Guardian's management portfolio consists of approximately 16,500 multifamily units. The company has ownership in 25 percent of its portfolio. http://www.gres.com.