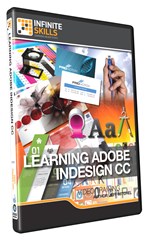 Learn Adobe InDesign CC At Your Own Pace
(PRWEB) August 04, 2013
Software training firm Infinite Skills Inc. last week introduced its "Learning Adobe InDesign CC," an introductory course teaching all the basic tools and techniques for page design using Adobe's industry-standard desktop publishing software.
Used primarily by graphic designers and production artists, InDesign is used to design print media such as brochures, flyers, magazines and books. It also supports EPUB and SWF files, formats used in digital publication for desktop and mobile platforms.
InfiniteSkills' "Learning Adobe InDesign CC" teaches all the basic tools and techniques for getting started in this powerful graphic design tool.
Course author Jeff Witchel has more than twenty years' experience in graphic design. In his career in advertising, Witchel was an award winning writer and creative director. He currently writes for layersmagazine.com and InDesign Magazine. His InDesign tips and tricks, collected from over 5 years of writing a regular column, are collected in a book currently available at bookstores.
Adobe InDesign CC Training Video From Infinite Skills
Witchel's energetic, student-friendly teaching style makes Infinite Skills "Learning Adobe InDesign CC" the perfect guide for getting started in this powerful program.
After covering the basics of working in InDesign, explaining how to navigate and customize the workspace, Witchel goes in-depth with designing documents, starting with the layout of InDesign pages, including rulers and grids and other attributes of the basic InDesign document.
He then explains how to work with frames and objects, looking at how to draw and transform objects, use Smart Guides and InDesign's Pathfinder tool, and then closing the chapter with an object oriented project.
Witchel then covers working with text, explaining how to insert and edit text, and how to add effects and style.
The course then switches gears, explaining how to arrange objects with text on the page, and integrate InDesign with graphic design programs in a workflow. Other chapters look at working with color, page transparency and applying visual effects before covering how to print from InDesign.
"This course is basic training in InDesign," Witchel says. "We'll cover the amazing set of features that make InDesign the best desktop publishing program, including a plethora of tips and tricks I've learned over the years that will help students work more efficiently and creatively in InDesign."
Free demo videos and a full list of course contents can be found on the Learning Adobe InDesign CC training page of the InfiniteSkills website:
http://www.infiniteskills.com/training/learning-adobe-indesign-cc.html.
InfiniteSkills offers its Learning Adobe InDesign CC Video Tutorial either as a DVD or a direct download from the company website at a retail price of $99.95. All InfiniteSkills titles and formats are compatible with both Mac and Windows operating systems, and shipping is available around the globe. InfiniteSkills tutorials are supported by project files which correspond to examples in the videos.
About InfiniteSkills Inc.
A leader in the field of software training, InfiniteSkills strives to offer the highest quality training available at an affordable cost. InfiniteSkills tutorials are task-oriented instructional videos, teaching complex skills by providing hands-on examples, guiding users as they carry out critical objectives. InfiniteSkills offers a comprehensive range of software titles available as DVDs, digital downloads, and iPad editions, keeping with company aim of delivering professional training to customers anywhere they want to learn.