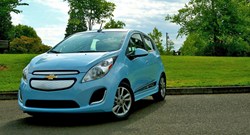 (PRWEB) August 02, 2013
Car Finder Service customers demand up-to-date information on future car purchases. To this end the company has published its weekly round-up of new model releases.
Summary and highlights from this week's Sneak Peek:

test drive of Chevy's all electric EV
the new Mitsubishi Lancer and Outlander
the new Mazda3
Mini's camper concepts
American truck news
Porsche's electric and hybrid efforts
IT'S ELECTRIC - CHEVY SPARK EV
An all electric 2014 Chevy Spark EV – base $27,495 – is available for purchase now in California and Oregon. According to Left Lane News, it boasts the highest EPA efficiency rating and depending on the charger, it has the capability for 80% charge in 20 minutes. Road tests report a surprising level of pep and refinement. Release for the rest of the 48 is not planned.
See the full roundup for more hip moves from Chevy and Mitsubishi.
ALMOST HERE: MAZDA3
The 2014 Mazda3 will go on sale this September. It features a whole new architecture, Skyactiv, same as what's in the CX-5 and Mazda6. The new grill gives a sportier look, and test drives report the compact is just as fun to drive as ever. An optional technology upgrade provides speed and navigation enhancements with a pretty nifty floating user interface. Note: the bigger 2.5 liter engine will not available with manual transmission right away, however Popular Mechanics test drivers claim the 2.0 is plenty good enough.
See the full roundup for more on the Mazda3, Mini campers, American trucks, and Porsche electric and hybrid efforts.
ABOUT CAR FINDER SERVICE
http://CarFinderService.com is an automotive website committed to helping car buyers search for the best brands of new and used car models. Educating consumers about the auto industry, auto maintenance and the car purchasing process since 2001, Car Finder Service provides the most up-to-date local pricing, specs, and feature information for all popular car models sold in North America.
Car Finder Service also helps consumers with the latest vehicle financing and insurance opportunities at competitive rates in partnership with an extended network of car dealers and vehicle financing & insurance providers throughout the US.