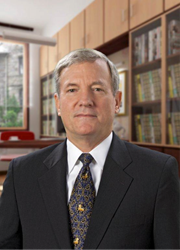 New York, NY (PRWEB) August 08, 2013
Defense Mobile Corp is pleased to announce that Lieutenant General (Retired) Bob Wood has joined its Board of Advisors. Wood's impressive military service and current work in the corporate world make him an significant asset to Defense Mobile Corp.
About Lieutenant General John R. Wood
Lieutenant General John R. (Bob) Wood's distinguished military career in the United States Army has spanned over 36 years and includes positions ranging from commander and staff officer to Deputy Commander of the United States Joint Forces Command and Deputy Commandant of the United States Army's Command and General Staff College, among others.
LTG Wood has been responsible for the development and implementation of numerous counter-terrorism strategies in over 22 Army commands worldwide, and has led the Army's Pentagon planning, as both a division chief (DAMO-SSP) and later as Army Staff Director (DAMO-SS), for Rwanda, Haiti, Somalia, Bosnia, Afghanistan, and initial Iraq operations.
While Director of Joint Experimentation at US Joint Forces Command, Bob worked closely with the Department of Defense in the development of operational strategies and concepts and was responsible for all joint experimentation, training, capability development, and force deployments. As Deputy Commander of USJFCOM, he used his skills and understanding of senior staff management and strategic planning to successfully oversee all staff, fiscal management, and headquarters transformation activities in this combatant command.
LTG Wood holds degrees from the United States Military Academy (B.S.), the University of Chicago (MBA) and the U.S. Army Command and General Staff College (Master of Military Art). In 1984 he was appointed as a White House fellow and served on the National Security Council (NSC) during the Reagan administration where he guided the Strategic Defense Initiative through presidential directives and public policy. In 1993, LTG Wood was a fellow at the Walsh School of Foreign Service at Georgetown University.
Since his retirement from the Army in 2009, Bob has devoted his attention to Star Strategies Group, LLC, a consulting practice at which he is the managing partner. This company provides strategic planning, security market assessment, business development, and leader development services for a range of small and large firms in the commercial and defense markets. Bob serves on both corporate and non-profit boards and presently holds a Top Secret security clearance.
About Defense Mobile Corp
Defense Mobile Corp (DMC) is currently preparing to launch a new nationwide 4G mobile service and military affinity platform to active duty military, veterans, and their families through the brands ArmyMobile, NavyMobile, AirForceMobile, and MarinesMobile.
DMC will offer a mobile banking, payments, and rewards platform that will enable customers to get exclusive discounts and cash back on everyday purchases. Defense Mobile is committed to helping military families save more, get more, and do more and will not only hire veterans but will also give 10% of corporate profits to military charities.