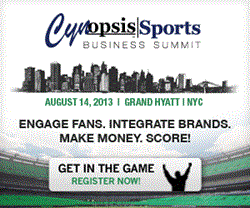 New York, NY (PRWEB) August 05, 2013
The most hyped debut of the summer doesn't belong to a show but to a network. FOX Sports has made headlines around the country with the upcoming launch of FOX Sports 1 on Aug. 17, marking the birth of a new national sports network that will carry NASCAR, college sports, UFC, soccer and more.
Now viewers can get an early taste of the channel at the Cynopsis Sports Business Summit, where FOX Sports executives will break down the story behind the channel. The Cynopsis Sports Business Summit takes place on August 14 at the Grand Hyatt in NYC. During the 10:45 a.m. panel, attendees can hear from company executives that include: Michael Bloom, SVP, Original Programming; John Entz, EVP, Production & Executive Producer; and Michael Mulvihill, SVP, Programming & Research. The executives will detail the strategy that gave birth to FS1 just days before it launches, break down how the company is looking to create a new voice to sports and review how they plan to bring America more live sports, original programming and studio shows such as FOX Football Daily, FOX College Saturday, Crowd Goes Wild and FOX Sports LIVE. This special session will be moderated by Dave Morgan, Senior VP of Content and Editor-in-Chief for USA Today Sports Media Group.
The second annual Cynopsis Sports Business Summit will bring together the leaders in the sports TV content business to examine the game-changing developments taking place on multiple platforms and behind the scenes in the sports world today. Speakers are set to include executives from leagues such as the NFL, NHL, NBA, NASCAR and MLS; networks that include ESPN, NBC Sports, Turner Sports, Showtime, NFL Network, CBS Sports, and Univision as well as brand executives from Subway, Anheuser Busch and UPS. The event is being hosted by the premier daily publication for sports executives: Cynopsis Sports.
Executives at the Summit will share key perspectives on growing brands, monetizing value and building communities by tapping into the unrivaled passion of the sports fan through content, context and digital connectivity to build audiences and integrate sponsors locally, nationally and on a global stage. The Summit is being chaired by Chris Pursell, Director of Sports Content for Cynopsis Sports and a veteran sports and TV journalist. The all-day event will be held at the Grand Hyatt in New York City and will feature content-rich sessions plus a Lifetime Achievement Awards Luncheon honoring Andres Cantor. (For details, go to http://www.cynopsissportssummit.com.)
For questions regarding attending the event, contact Jenn Ocampo at jenn(at)cynopsis(dot)com or go to http://www.cynopsissportssummit.com. For sponsorship information, contact Vice President of Sales and Marketing Mike Farina at mike(at)cynopsis(dot)com.
About Cynopsis Media Cynopsis Media is a division of Access Intelligence LLC. The Cynopsis Media family of products includes Cynopsis, Cynopsis: Digital and Cynopsis: Sports daily e-publications, weekly Cynopsis: Kids and Cynopsis: Classified Advantage e-publications, Special eReports, Event/Summits and a strong database of Classifieds and more. Visit cynopsis.com.